Know More about 6 of the Most Well-Known Compounds in New Cairo
New Cairo is considered the most important modern city in Egypt, as it occupies second place in the rating of new cities after the New Administrative Capital.
New Cairo is one of the most modern residential cities in Egypt. It has attracted many investors and individuals to live in. There are many wonderful residential compounds and projects in addition to the services offered in each of the New Cairo areas. Chinese developers have announced that they will invest $ 20 billion in Cairo for its unprecedented urban growth. New Cairo City is on the rise because of its many residential, living and investment advantages, such as the increasing number of investments in New Cairo Compounds, as well as the distinctive strategic location of the city, its growing population, the increased demand and `strong investments in the city.
GET YOUR NEW VILLA IN NEW CAIRO
Hence, we can't help noticing that the Egyptian real estate market is still promising and allows investment and construction of new cities to suit the increasing demand of all segments of society by providing different prices and spaces.
Here's a collection of the most distinct compounds of New Cairo:
Lake View is one of the best new residential compounds in New Cairo. It is located in the Fifth Settlement, one of the best communities in New Cairo. It spans more than 77 acres and is located in the Fifth Settlement near the American University. It has 118 residential buildings, gardens and artificial lakes. In addition, it is designed with unique and new models overlooking artificial lakes executed by a professional Greek company.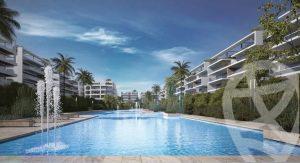 Life Park Compound
It is one of the most famous and finest compounds in New Cairo. It is located in the Hyde Park compound- which is located on the 90th Street in the Fifth Settlement, near the American University – and spans an area of ​​1200 square meters. It has various units such as villas, apartments, townhouses, duplexes with apartments ranging from 99 sqm to 327 sqm. Life Park Compound features the largest park in Egypt, over an area of 141 acres.
Promenade New Cairo is all about exclusiveness, comfort and privacy, it offers lots of great facilities that meet the needs of all residents which will make parting this gated community is not a choice. It certainly has what you are looking for. The project includes various facilities and amenities where you never have to leave the safety of your gated community.
Location of Promenade New Cairo
Promenade New Cairo is located in the heart of the Fifth Settlement. It is 5 minutes away from the American University in Cairo (AUC), and Street 90. The city's main buildings, international schools, and sports clubs such as Wadi Degla, surround the project. Maadi and Heliopolis is a 30-minute trip form the compound. 
Promenade New Cairo will certainly have what you are looking for. Built on a space of 33 feddans in the heart of the Fifth Settlement with 20% built-up area and 80% of magnificent gardens and breathtaking landscapes. Units' areas start from 150 up to 255 square metres.
Services and Advantages 
The compound offers many services to the residents, such as:
Gyms and SPA

Squash Courts

Car Parks

Artificial Lakes

24/7 Security Services

Shopping Area

swimming Pools

A Mosque

Running Track
River Walk Compound is an integrated residential compound. It is designed according to the highest levels of luxury and comfort, which made it one of the most upscale compounds in New Cairo. The Compound is located on 120,000 square meters of area, only 15% of which are for buildings and administrative units. The rest is dedicated to the vast green spaces. The Compound enjoys stunning natural views and provides absolute privacy. It also features a unique and distinctive design and has a river-shaped pool, which gives the impression that units overlook a real river. Moreover, all units in the Compound have richly ornamented private pools, with stunning views over multi-level waterfalls, which give you all freedom to enjoy the beauty of nature from your unit.
Location of the River Walk project
The River Walk project is conveniently located in the Fifth Settlement in New Cairo, just 15 minutes away from Wadi Degla Sporting Club – Maadi, and 5 minutes away from New Cairo Club and the Ring Road. The luxurious Compound is also located only 10 minutes away from Heliopolis, and 15 minutes away from Nasr City, so it has an ideal location in the center of Cairo; the Egyptian capital.
Services in River Walk in the Fifth Settlement
River Walk Compound in the Fifth Settlement offers a number of high-level services, such as:
24 hours security service

24-hour servicing

Sporting club

Private gardens

Artificial lakes

Garages

Private entrances

Distinctive gates
Features of River Walk 
River Walk Compound in New Cairo has a number of features that make it a serene haven for residence. It is such a full-service housing unit in the middle of a picturesque natural forest, which is surrounded by fully ornamented swimming pools, so you can enjoy indescribable views. The Compound also features multi-level waterfalls that make you feel as if you live in a picturesque tropical forest. The project's swimming pools are the longest river-shaped pools in New Cairo. Moreover, the project features a large sporting club that contains a unique spa, and multi-purpose interior rooms, which are separate from the club and dedicated to recreational and social activities. All these features make the River Walk Compound distinctive and unique project in the whole New Cairo.
The Icon Residence
 The Icon Residence Compound, located in New Cairo in the heart of The Fifth Settlement, is a project for Style Home real estate developer; one of the best real state development and establishment companies. 
The Icon Residence is characterized with its unique design that combines between luxury, attractive style, and healthy and pleasant environment that meets all needs. The project has been designed on 30000 M2 with a waterfront of 220 M2.  Moreover, The Icon Residence Compound is characterized by its buildings with their attractive engineering designs, the availability of intensive green spaces that represent 80% of the whole project, and the heightened blue color of the artificial lake surrounding the project.
The Compound also includes around 282 residential units vary from apartments, duplexes, to penthouses, with sizes start from 155 M2 up to 340 M2 for the sake of meeting all tastes and needs.
Location of The Icon Project
The project is located in the heart of New Cairo, as its only 2 minutes away from the main famous 90 street, and 3 minutes away from the Ring Road. Furthermore, the project is near to the American University and famous Compounds like Katameya Dunes, Mivida, and Hyde Park, and it's only minutes away from Suez Road and the New Administrative Capital City.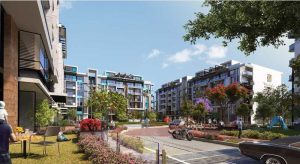 Services of The Icon Residence New Cairo 
The project affords unique and various services to meet all its clients and visitors' needs, among them are: 
Social club

Large Commercial building

Restaurants and cafes

Comprehensive health club

Open areas with splendid landscapes

Artificial lakes

An innovative and stylish design of units

Underground car parks for movement facilitation 

24-hour security guards

Commercial and administrative areas

A mosque

Landscape
Start searching for apartments in The Icon Residence
County Compound is a fully integrated residential complex designed in a modern architectural style. It consists of 10 diverse residential units ranging from apartments, apartments with gardens, penthouses, and duplexes. It is a unique compound characterized by its landscape on an area of 8000 m overlooked by all units. It hosts a fully integrated recreational area, provides the best picturesque natural views for the residents along with simulated recreational activities extended on this large space.
Location of the County Compound
County Compound is located at the Fifth Settlement between Suez Road at the north and the 90th Street at the South, and is just a few minutes away from Future City, Golden Square, and the Clubs area. Additionally, it is steps from the Regional Ring Road, minutes away from Mohammed Bin Zayed Axis in the New Capital, and the largest recreational complex at the Fifth Settlement, View Zone.
Features of County Compound
The compound is characterized by many essential features. Moreover, it is fully surrounded by palms and contains diverse areas ranging from (117 m² to 360 m²) divided between apartments, apartments with gardens, penthouses and duplexes in return for prices start from EGP 950,000 per unit, EGP 6500* per meter and with payment facilities; 5% as a down payment and up to 7 years installments.
The compound's features include:
Services Area on 1800 m

Sitting area

Swimming Pool of 50 m

Kids area

Fitness area of 110 m

BBQ area

Garage covering the full project area (the largest garage at the Fifth Settlement)

Storage Rooms

House keeping

Parking spaces for people with special needs

Car Care Center

Walking and jogging tracks
The Most Important Services at the Residential County Compound
Swimming Pools

Gym

Garage covering the full project area

Sitting area

Parking spaces for people with special needs

Security and 24/7 (CCTV)

Electronic Gates

Electronic elevators from the garage to the roof

Kids area

Luxury Entrance Finishing (marble), Intercom

House Keeping Services

Central Satellite TV

Sound Proof PVC Windows

Private Garden

Pets Care Services

Underground Parking Lot