Your guide to Mostakbal City, features, services, compounds, prices
By the Ismailia Desert Highway lies Mostakbal City, a beautiful modern addition to Egypt's vast array of urban cities. If you're looking to live in a luxurious compound, Mostakbal City offers you numerous excellent residential projects to choose from. 
Who wouldn't want to live surrounded by great utilities and countless services, all in a uniquely relaxing atmosphere? It's the life everybody dreams of, you'll be living in Mostakbal City! That is why through this article we will be touring you around this beautiful city, along with the amazing rental opportunities it has to offer. 
A Glimpse Inside Mostakbal City
This city is one of Cairo's most modern ones, built in an approach to decrease its ever-growing population. It lies 35 kilos from the Ismailia Desert Highway, making it exceptionally close to Shorouk City. The city is also strategically close to many other vital areas such as Fifth Settlement, Madinaty, and Oubour City. 
Mostakbal City was built over a staggering 11,000 feddans, where landscapes and refreshing green areas spread across most of its space. We promise you you'll find Mostakbal City an amazing sight to behold!
The city includes two main entrances. One of them lies by Ismailia Desert Highway, while the other lies by the Mubarak Road near Carrefour El-Shorouk. It's divided into two sectors namely T and U, along with two sub-sectors which are extensions to the original ones. Another thing you're going to love at Mostakbal City is that it's filled with many breathtaking famous compounds, providing everybody with numerous options to choose from. 
Top 5 Information About Mostakbal City
Services You'll Find in Mostakbal City
Within this magnificent city you'll get to enjoy countless unique services, all while living conveniently close to Shorouk City and many other vital areas of Cairo. Some of the services you'll find in Mostakbal City include:
Educational Services 
The city includes an Experimental School as well as a Public School. Not only that, but it also includes a boarding school under the supervision of the Armed Forces, which is the Military Sports School. 
Entertainment Services 
Once you set foot inside Mostakbal City you'll surely enjoy the vast landscapes, the greenery and the relaxing atmosphere. Above that, it includes four different sports clubs, along with Egypt's very first Bike Park. 
Commercial Services 
Mostakbal City includes its own huge shopping mall owned by the Armed Forces, which is the beautiful Sun Mall El-Mostakbal. Other than that, residents get to enjoy several other different commercial shops. 
Other Services 
Another unique thing about Mostakbal City is that it's one of the few urban cities in Egypt planned out to include all kinds of services. Living in this city means you'll get to have cleaning, housekeeping, elevator maintenance and furniture transport services all at your hands. Does it get any better? Buildings in Mostakbal City provide labor to carry out basic utilities like plumbing, carpenting, electricity and so on. 
This is extremely convenient, because it means you're guaranteed to avoid unskilled workers.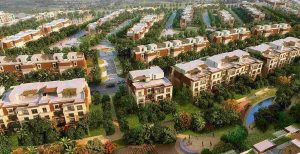 Transportation
Basic transportation in the city comes in public transport buses which take the residents to El-Hijaz Square in Heliopolis. From there, it's very easy to use the metro or any other form of transport to get to anywhere in Cairo. 
Other than that, there are ways of inner transportation between different parts of the city. 
Important Sights in Mostakbal City
The Bike Park present in Mostakbal City is probably its most prominent sight. It's the first in Egypt and the biggest in all of the Middle East, stretching over 210 feddans. Cyclists love to visit all the time, especially because it's not expensive at all!
Residents in Mostakbal City also enjoy being close to the Aqua Park, El-Oubour Market and the Hikestep. 
The city also includes many sports fields, restaurants and artificial lakes, making it the perfect relaxing haven for all of its residents. 
Privileges You'll Enjoy in the City
When you compare Mostakbal City to other modern urban cities, you'll certainly see why we love it! Residents of this city enjoy wide landscapes and green areas, granting them fresh air and a very environmentally friendly atmosphere. 
It's also one of the few cities taking steps towards recycling its garbage, and using solar energy. 
Another thing residents love is the constant sense of security, where entrances and residential buildings are completely well-guarded. What's better than living in a luxurious, quiet city close to the most vital areas of Cairo?
Privilege comes through provided services, and Mostakbal City offers you many of those. You'll find companies like Queen Service, which provide plumbing, carpenting, and any other service a resident might need. 
It's safe to say that privileges and services in Mostakbal City are only going to increase over the next few years, with more and more residents choosing to live in this breathtaking city. 
Recognize The Advantages Of Living In Mostakbal City
Compounds in Mostakbal City
Residential units in Mostakbal City include Officers' Housing, Youth Housing, and the many different compounds that offer so much for their residents. 
Youth Housing units within the city enjoy beautiful landscapes around them. Apartment spaces reach 120 square meters. 
However, you'll find that most residential units in Mostakbal City come in compounds, which is the future of the real estate market in general. Compounds usually provide much more safety and convenience for their residents. 
Above that, compounds can offer you even more privileges than those present inside the city, guaranteeing you a life of complete luxury and comfort. If you're wondering how you're going to choose from the numerous compounds in Mostakbal City, we've got you covered! Here are some of the top compounds within Mostakbal City:
This compound is one of the residential projects of Wadi Degla Developments. You'll find different units of apartments, villas and townhouses within Neopolis. 
Unit spaces also vary greatly, where they start from 90 square meters reaching up to 320 square meters. 
A great thing about Golf Porto Cairo is that it lies close to the New Administrative Capital. Above that, almost 80% of its total space is dedicated solely to landscapes and artificial lakes. Isn't that amazing?
Unit spaces within this compound range between 57 square meters and 142 square meters. 
This compound's designs are like no other, where they beautifully combine both modern and Egyptian architecture. It includes many different services such as a social club and a shopping mall. Unit spaces in Sarai start from 136 square meters reaching up to 295 square meters.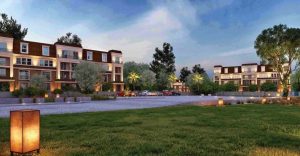 Average Prices in the City
Unit prices will obviously vary according to the unit's type and space, but on average the price of one square meter in an apartment is about EGP10,250. As for the villas in Mostakbal City, the price of one square meter reaches EGP14,600. The price usually varies from one compound to the other, but most units start from about EGP1,000,000. 
Mostakbal City, It's Not Just a Name!
All these privileges offered by the City easily make it an icon of what urban cities in Egypt must aspire to be. Where the convenience and luxury of all residents is more important than how many of them can fit in one place. So, if you're looking to rent a place in this magnificent city, you have many options!
Investing companies have finally come to realize that they need to put more landscapes and artificial lakes into their projects, along with many services that make the residents' lives more convenient. There are shopping malls, social clubs, and so much more in the City.
When people look for an apartment these days they don't just search for a suitable space, they also tend to care about the atmosphere surrounding their unit. After all, they'll be staying there for a long time, and they need to choose a relaxing place. 
In Mostakbal City, you'll be met with not only a unique location, or many varying spaces, but also the beautiful natural landscapes it offers.
Besides, you'll be getting all these privileges for about the same prices offered in less convenient cities. So, what are you waiting for? Living in Mostakbal City will be the best choice you've ever made!
*Please keep in mind that all the prices in this article are subject to change, and we at Aqarmap are constantly updating our Prices Guide to keep our customers and readers informed about the latest updates in the real estate market.