Egypt Real Estate Market Research
Emerging changes in the Real Estate Market Demand Study and Research 
In the last decade, the Egyptian real estate market witnessed significant changes, especially with the forever increasing demand for various real estate products, in addition to the changing needs of customers and their requirements for different facilities and specifications in finishing and services. This great demand for real estate, whether for housing or investment, prompted the establishment of significant real estate companies and entities to implement residential, commercial, and administrative projects, varying between compounds, commercial centers, and administrative malls in the new cities. Thus,  the need to conduct accurate real estate market research and to study the Egyptian real estate market and its needs is increased due to the diversity of customer segments and their preferences. 
The Egyptian Real Estate Market, a Market Size that Grows Annually
The Egyptian real estate market is huge, has multiple needs, and is constantly changing, so an extensive market study is required before launching any real estate project to know the needs and priorities of the segment that your company is addressing with this real estate product.
Know more about Aqarmap Services to Study Real Estate Market!
Major Financial Investments in the Egyptian Real Estate Sector
With the large volume of investments executed in real estate projects, in some events reaching billions of pounds, it is necessary to conduct a comprehensive study of the market and the volume and type of real estate demand, to know the customer's preferences in terms of the type, area, and finishing of the required property, and consequently provide a product that suits the target audience segments of the project.
The Importance of Real Estate Feasibility Study
Extensive economic feasibility studies are required before conducting any huge financial investment, and real estate investment is no exception. Rather, the need increases to study the real estate market in Egypt to know the preferences of different segments and their characteristics in terms of income, education, and places of residence.
These research studies become increasingly important in times of financial and global crises, as the percentage of risk and the cost of investment increases during these times.
The more the study is carried out on a large and modern database, the better understanding of the market pulse and the customer's needs.  In Aqarmap, we seek to develop and update our customer database and study their needs and purchasing behavior to provide our clients from real estate companies with accurate information about the market pulse and customer needs.
The Impact of Global Crises on the Real Estate Market in Egypt
The crisis of Coronavirus in 2020 had a wide impact on real estate demand, as the demand decreased for a period and then returned to rebound again in 2022, and despite the Egyptian pound hitting an all-time low against the U.S. dollar after that, the demand for real estate increased on the part of investors, and even consumers, in order to secure their money in assets It has a fixed value and can even provide income through resale or rental.
The great demand for real estate after the Corona crisis put real estate companies in front of a new challenge regarding the nature of real estate demand and the priorities, segments, and preferences of customers. 
Aqarmap was one of the first companies to study customer demands after the Corona crisis, through research studies, and questionnaires, in addition to analysis of databases, customer behavior, the scope of his research, and the type of real estate required. The company managed to provide several marketing consultations to major real estate companies.
Detailed Report of COVID19 Impact on Egypt's Property Market
A Huge Egyptian Real Estate Market with an Increasing Annual Growth Demand
The number of Egyptian citizens has reached more than 110 million, in addition to several million other residents coming from brotherly Arab countries.  Approximately, 60% of the country's population is youth, those people aged from 18 to 40.
This percentage reflects the size of the real estate market. Despite the huge number of real estate projects, real estate demand is still greater than supply, and surveys and studies carried out by Aqarmap confirm the high annual growth rate of the real estate market.
Understanding Customer Preferences and Real Estate Needs
Despite the great real estate demand, some companies face a slowdown in sales of their projects, due to the lack of proper analysis and study of the real estate market in Egypt. For example, Egypt property market research conducted by Aqarmap in 2022 showed the increasing interest of customers in fully finished and ready-to-move-in properties, even if their prices are slightly higher than other types of properties. 
Also, with the diverse supply of various real estate solutions, whether in medium and luxury government housing projects or new private real estate products, as well as 3% and 8% mortgage finance initiatives, real estate companies found new variables in the Egyptian real estate market.
Request a Real Estate Market Research for your Project
Aqarmap Researches Based on the Needs of Each Developer
In addition to the annual Egypt real estate market research, Egypt Real Estate Trends, which Aqarmap implements extensively, making use of its huge databases that it collected during long years of work in the Egyptian market, it also provides detailed market studies according to the needs of each real estate company to invest with confidence and provide a real estate product according to the customer's request.
The latest market studies carried out by Aqarmap in 2022, at the height of the flotation crisis of Egypt's currency, showed that more than 80% of the website's users, of all social levels, prefer to invest their savings in buying real estate as a first option, followed by investing in bank certificates, while a small percentage of customers showed their preference to buy gold and shares in the stock exchange and foreign currencies for the purpose of investment.
Aqarmap's Marketing Studies with Brilliant Real Estate Companies
Aqarmap provided many marketing consultations and various market studies to major real estate development companies. The cost of studying the real estate market does not represent more than 1% of the total investment value of the project, as confirmed by Amad Almsaodi, CEO of Aqarmap, but still, it guarantees you a safe and more confident investment by knowing the needs of clients and adheres to them.
The most prominent companies for which Aqarmap have carried out marketing studies:
Al Dawlia Developments

Nile Developments

Egyptian Resorts Company (ERC)

Memaar Al Morshedy

The Ledge

AKOYA Developments

Talaat Mostafa Group (TMG)

La MIRADA

Mountain View Egypt

Al Ahly Sabbour

INERTIA Egypt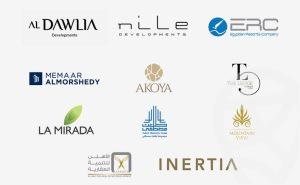 Outcomes of Aqarmap Studies of the Real Estate Market
One of Aqarmap's reports showed that customers need longer repayment periods, and this has already been executed by real estate companies as the repayment period raised from 4 years in 2014 to 8 years and more in 2022.
Aqarmap studies also showed an increase in the demand for real estate financing, which constituted a remarkable activity in 2021, as the volume of financing granted by real estate finance companies amounted to more than 8 billion pounds in 2021, compared to about 3.4 billion pounds in 2020.
Aqarmap's Large Database means accurate and credible information
Through the large number of visitors to Aqarmap, which exceeds 2 million per month, Aqarmap is able to conduct a comprehensive analysis of the real estate market in Egypt and monitor the preferences of customers looking for real estate for sale or for rent. We also provide comprehensive marketing studies according to the needs of each real estate developer to help the company make the appropriate decision in developing its project.
Aqarmap Price Guide to Understand the Real Estate Market
Aqarmap Prices Guide is updated monthly, and it provides real estate meter price updates in the neighborhoods of Greater Cairo, Giza, and Alexandria. Using Aqarmap Prices Guide, you can learn about the levels of demand in each area and monitor the price change during the last 12 months, and thus you can understand the movement of the real estate market depending on the behavior of users and real market trends.