Buying a House During Corona virus: What Precautions Should You take?
Although the coronavirus outbreak has negatively affected many industries, ending by some of them to a halt,  real estate market started to go back to normal as Egyptians are still buying homes.
Many people find that the only available solution currently is to survive the pandemic and go back gradually to a normal with following the safety and health precautions recommended by the World Health Organization.
Indeed, we started to see a gradual return of some businesses in Egypt including real estate investment, moreover, some investors and buyers think that buying real estate will be a safe haven for their money in a volatile market, especially since real estate increases or regains its value over time, which makes it the best investment for the future.
If you are looking to buy a home at this time, we recommend to use these tips to help keep yourself and others safe and healthy during the buying process:
1- Start searching for the property on the Internet; this will reduce the chances of direct contact with people and thus reduce the possibility of infection, and you can search on social media sites (such as Facebook) or via real estates search engines such as Aqarmap, through which you can specify specifications, region, price, and pictures of the property and the location, and by obtaining the needed information. You can also utilize virtual services, such as video tours, whenever possible.
2- If you choose a property and decide to go to see it, it is better to go alone and take videos and photos of the house to check it with your family after going back. Reducing the number of people exposed to human interaction means reducing the possibility of infection, and at the same time, if you are waiting for a buyer to see your property, you should meet it on your own.
3- Make sure that all your personal protection tools are prepared when going for inspection, the most important of which is the face mask, be sure to buy the mask from a trusted location, and you can purchase an additional mask for the real estate agent or broker.
4- Don't forget to take a bottle of hand sanitizer  (containing 70% pure alcohol) and cleanse your hands after touching any surface (door handle, car, transportation, …).
5- Be careful not to touch your face after leaving the house till returning back.
6- Take sterile wipes with you.
7- It is best to go in your own car, taxi, or Uber. It's preferably sitting in the back seat, not next to the driver.
8-Avoid shaking hands, and kindly remind your real estate agent that this is a precaution to prevent coronavirus.
9- While visiting the property to check, be sure to leave a distance of 2 meters between you and anyone.
10- Reduce the amount of time spent with other people in the same room. This "social distancing" practice can curb person-to-person spread.
11-  Be mindful of how much you touch things in the home and minimize contact with doors and hand railings.
12-Ask the broker to open the windows during the inspection so that the air regenerates
13-After viewing the property, you should thoroughly disinfect your hands with alcohol until you return from home and wash them again.
14- Get rid of the face mask properly in the trash can when returning (without touching the exposed part as it contains viruses), wash your hands with soap until well for 30 seconds,  then wash your face thoroughly after you finish washing your hands.
15 -Cleanse all items with medical alcohol such as mobiles, keys, pens, and wallet, and leave them, without wiping alcohol, until they are completely dry.
Personal Infection Prevention Equipments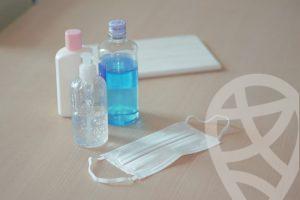 Face Mask
Hand Disinfection / Sanitizer
Hand Cleansing.
Skin Disinfection & Decolonization.
Surface Disinfection.
Gloves.