Get to know the Delta Sharm Tourist Resort in Sharm El Sheikh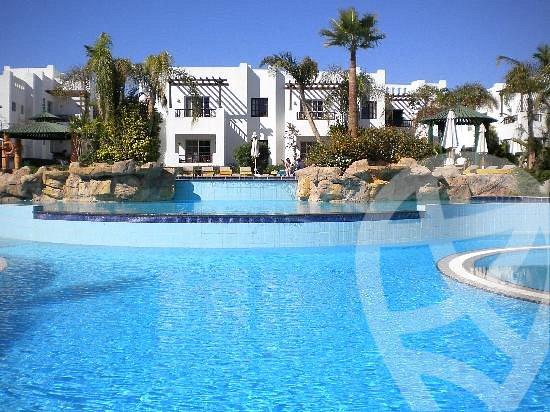 Spending a wonderful summer vacation is the wish of every family looking for calm and relaxation away from the hustle and bustle of the city, but the search for the right place to spend that vacation remains a task that is not easy, especially in a coastal city like Sharm El Sheikh.
One of the most well-known tourist resorts in Sharm El-Sheikh is the Delta Sharm Resort. It is a tourist resort built in 1998 and provides charming and satisfactory hotel accommodation for all tastes.
Start searching for properties for rent in Delta Sharm Resort
Prime Location of Delta Sharm Resort in Sharm El Sheikh City
Delta Sharm Resort is located on Naama Bay, 5 kilometers from the Red Sea, a three-minute drive from the old town of Sharm El-Sheikh City, seven minutes from Naama Bay, and easily accessible from the airport as it is only a 20-minute drive away.
Features of the Delta Sharm Resort
The Delta Sharm Resort is characterized by a 4-star rating, and it is a resort built on vast green areas and beautiful gardens, allowing visitors to stroll and relax amidst water slides, waterfalls, and swimming pools. 
The apartments, chalets, and studios built inside the resort are elegant wooden furniture, and large windows overlooking the gardens and landscapes.
Delta Tourist Resort is distinguished by its strategic location in the heart of Sharm El Sheikh, as it is close to Aqua Blue Water Park, the famous water park, which is located in the plateau area "Umm Sid Plateau," which has about 44 waterfalls and various water games.
Dolphin and Crocodile Shows: One of Sharm El-Sheikh's Famous Trademarks
Hollywood Sharm El-Sheikh: One of the most touristic areas in Sharm El-Sheikh that provides an atmosphere of joy and fun and a bustling nightlife, perfectly suitable for taking the most beautiful photographs accompanied by the dancing fountains to the tunes of music and colorful lighting units that emit Baha'a.
The place also includes an open theater that presents a singing or a musician's performance every night, along with a large number of fine restaurants and cafes that provide their services to visitors
Heavenly Cathedral: it is one of the largest churches that Sinai has built since its construction was completed in 2010 after eight years of construction. It was also classified as one of the 10 most beautiful churches in the world in the same year.
King Tut Museum: One of the strangest tourist attractions in Sharm and the most preferred by tourists who love the heritage of the Pharaonic civilization during their visit to the tourist places in Sharm El Sheikh.
Malls and Shopping Centers Adjacent to the Delta Resort Project
Delta Mall is also adjacent to many important malls and commercial centers in Sharm El Sheikh, the most famous of which are:
Genena Mall: Genena City is one of the tourist attractions in Sharm El-Sheikh because it offers a wonderful view of Naama Bay and the famous and distinctive walkway, various entertainment shows between circus and folklore performances, multi-dimensional cinema shows, bowling and billiards halls
Mercato Mall: One of the largest shopping centers and the best place in Sharm El Sheikh for entertainment and fun. 
The resort is also adjacent to many famous restaurants and cafes are known in Sharm El Sheikh, such as:
Fares seafood restaurant

Hard Rock Cafe

Farsha Cafe

Little Buddha
List your chalet in Sharm El-Sheikh for sale or rent on Aqarmap
Services and Facilities in the Delta Sharm Resort 
Private swimming pools: There are 11 swimming pools throughout the resort, which are open throughout the year for visitors and include water heating technology, and are adjacent to most of the service areas within the resort.

Free Wi-Fi allows visitors to connect to the Internet, and businessmen to monitor their business

A health spa that offers a wide range of health and beauty treatments including massages, saunas, full-body treatments as well as aromatherapy

A gym and a health club provide yoga classes and a variety of exercises

Special playgrounds for children and provide various recreational activities and competitions especially for children

Water games adjacent to the swimming pool area 

Restaurant and café to serve visitors around the clock, serving delicious seafood and oriental food

Breakfast and Dinner Open Buffet Service: A service available to resort guests to enjoy delicious continental, vegetarian, or set menu food

A mini-market for shopping inside the resort and buying gifts and souvenirs

private beach area

Free parking

Laundry and dry cleaning service

Room service around the clock

Providing a free shuttle bus every hour to the sandy beach in Naama Bay

Tour booking offices and assistance in planning foreign trips

ATMs

A security guard at the gates and in the place around the clock
Types of Units in the Delta Sharm Resort
Delta Sharm Tourism is distinguished by the diversity of real estate in it. It contains:
Single rooms for single

Double rooms

Triple rooms