Next Point Compound
Enjoy the quality of life in Next Point
Next point compound is one of the most prominent projects in Cairo and one of its kind on the eastern region of Cairo. Located near the Ring Road, in front of Maadi's Carrefour, it's nearby most of the Cairo's neighborhoods since it's situated in the heart of Cairo.
About the Real Estate Developer
Next Home company for Real Estate Development started their projects in Maadi and eastern Cairo and had a glorious vision for the real estate investment in Egypt.
Next Home collaborated with Point for Housing Solutions in building "Next Point" which aims to provide a housing solution for those seeking the equation of great location, nice design, and great quality of life.
What is so special about Next Point Compound?
One of the few projects in Egypt designed to maintain a healthy lifestyle, following the latest trends and specifications.

The design allows natural airflow which helps decrease energy consumption for units.

Next Point compound is expected to be done within 3 years.

The project has 3000 residential units which come with diverse areas, designs, and different payment plans which is convenient for different needs and fits all budgets.

Also, offers commercial and administrative units.

Next point consists of 3 parking floors for both units owners and compound visitors.

The buildings were built with the best insulation for temperature and sound built by the best materials and by skillful builders to provide peace and quiet in each and every unit.

The project is planned to have a great area of green spaces and landscape, safe walkways for the whole family and spaces for water features with unique designs to inspire peace of mind in the community and ensure spending a great time.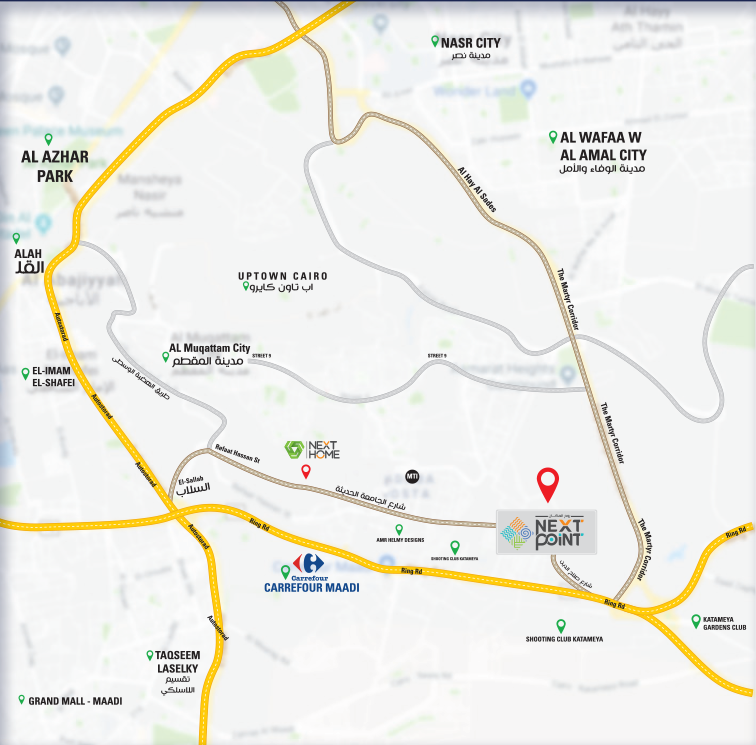 Find your next home in Al-Hadaba Al-Wosta
Next point facilities 
Parking spaces for cars and bicycles

Car services center

Sports center and fitness center – spa 

Pharmacies and medical centers

Pets care centers

Electric gates and security

Internet and cable

Nursery and entertaining centers

Administrative offices and shopping mall

Swimming pool and green areas

Restaurants

Banks

Beauty salons

Using solar energy for public lighting

Central Satellite & Wifi

Babysitting center

Top notch elevators and generators

Housekeeping services
Next point units prices
Apartment prices are ranging from 636,000 – 1,241,500 EGP* for areas of 110-191 m² with easy payment plans where you can pay:
20% down payment and installments for up to 5 years

10% down payment and installments for up to 6 years

Installment of commercial and administrative for up to 5 years
You can get your unit in Next Point from here.