Your Guide to the Capital Business Park Project in Sheikh Zayed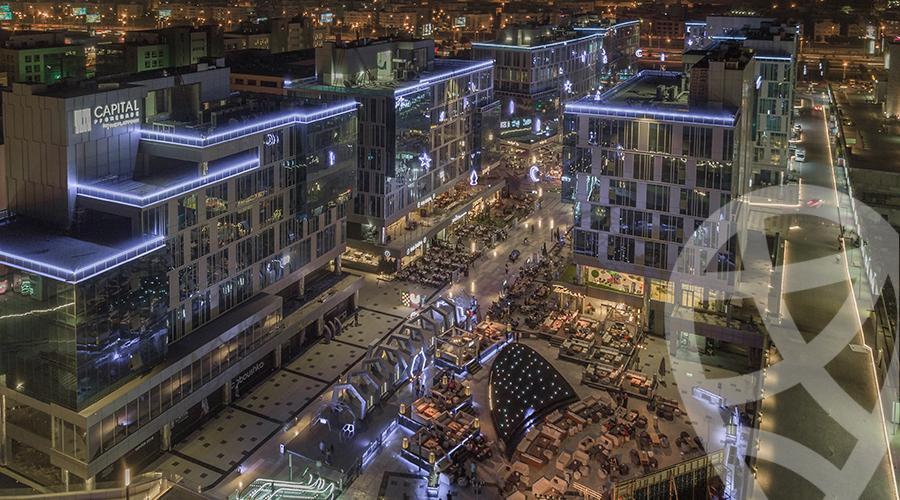 Capital Business Park is one of the most important projects in Egypt, implemented by Dorra Group, which is the Capital Business Park project, and administrative units in the Capital Business Park, commercial, and medical projects, located in Sheikh Zayed City.
In the following paragraphs, you will find information about the services and features of this project, as well as the types and sizes of the units it contains.
Find your office for your business in Capital Business Park
Details of Capital Business Park Project
Capital Business Park is characterized by its distinguished genius design, and its engineering division, which is one of its most important features, in addition to its strategic location on the 26th of July axis, and the integration of its facilities and services to facilitate living for residents.
Capital Business Park offers properties of various purposes and spaces and provides its customers with easy payment systems. It is noteworthy that all units in this project are distinguished by their wonderful decorations and elegant designs, in addition to dancing fountains and international lighting.
Location of Capital Business Park in Sheikh Zayed City
Capital Business Park is located near many distinguished services and facilities, thanks to its view of the 26th of July Corridor, and it is close to Hyper One and Arkan Plaza. Therefore, it is close to many means of transportation that facilitate the transportation of its customers to and from it.
Details about Sheikh Zayed City
This city is located near the

6th of October City

, about 28 km from downtown Cairo. It is bordered by the Cairo-Alexandria Desert Road and the 26th of July Corridor

Sheikh Zayed City was established in 1995 to reduce overcrowding in the center of Cairo and to expand the urban area

It is a fairly quiet city, characterized by large green spaces and good weather compared to downtown Cairo

Sheikh Zayed City is divided into several areas where residential

real estate in Sheikh Zayed

varies between the economic, middle, and high classes. Moreover, the city was divided into several districts and districts of up to 20 districts
The Developer of Capital Business Park in Sheikh Zayed City
Dorra Group has established this project with great accuracy and quality, as it is distinguished by its extensive experience in this field. Below is information about it:
Dorra Group is one of the best and oldest real estate development companies in Egypt.

It has remarkable achievements in both residential and commercial projects, but also in the fields of tourism, concrete and bricks, and advanced industrial activities

This group is 78 years old and was established in 1943 by the late engineer Mohamed Hassan Dora

It has a reputable reputation in the Gulf region, the Middle East, and North Africa, including Dubai, Abu Dhabi, Sharjah, Qatar, and Saudi Arabia

Famous in many sectors, such as construction and industries, real estate investments, and tourism investments
Previous Works of Dorra Group
Dorra Group has successfully developed a variety of projects, including:
Commercial high-rise commercial

buildings in Sheikh Zayed

Buildings, integrated residential complexes, hotels, and five-star resorts

Large schools and educational institutes

Hospitals in Sheikh Zayed, factories, government, and public buildings

Major sewage treatment plants

In addition to many other projects in various fields
Available Services in Capital Business Park Project 
The Capital Business Park project is characterized by providing all the necessary needs for work and entertainment, to reduce the need to move outside it, and the most prominent of these services are:
The presence of a variety of shops, containing international brands

There are many options for restaurants and cafes in Sheikh Zayed that offer varied menus of high quality and are characterized by their high-level service

Capital Business Park contains medical services

, such as clinics and pharmacies

It also includes a gym, security and safety services, maintenance service, and fire alarm

There are 3 elevators in each building, as well as bathrooms on each floor

High-speed internet, two-floor garage, and central air conditioning are available
Types of Residential Units in Capital Business Park Compound
You can find administrative and commercial units in Sheikh Zayed at the best prices in Capital Business Park, where units are available for all purposes and needs, and the customer has the option to purchase either an office or a separate unit, or to purchase an entire floor.
Find a medical unit for your clinic in Capital Business Park
Details of Areas and Designs in Capital Business Park Compound
The areas of units in this project vary to suit all needs and purposes, as:
 Advantages of Working From Capital Business Park Project
This place is ideal for investors and project owners, due for a number of reasons, as it:
It contains entertainment facilities for children and some games with security services

It is suitable for families and groups because it contains distinct options for them, such as restaurants and cafes

Supports electronic payment service

Provides parking spaces

It provides a high level of security and safety
Advantages of Investing in Sheikh Zayed City 
The city contains a lot of health, educational and recreational services that serve a wide range of residents, and it attracts new visitors every day, which means new customers for the projects that are being established

This is in addition to the availability of transportation to facilitate transportation to and from it, which is a key factor in the success of any project

It also provides infrastructure, such as electricity, sewage, gas, and internet services