Everything You Dream About in Continental Gardens Sheikh Zayed Compound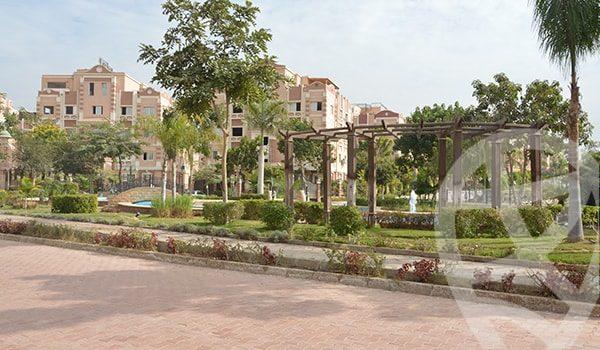 When a real estate development company begins to design a plan to establish a new residential compound, it conceives all the needs of customers. 
The most important of these needs is choosing a distinguished strategic location in the heart of any big city. besides, providing the largest possible number of services that make life easier and simpler and providing multiple types of housing units with different areas. 
All of this is provided at the best price with payment facilities in the Continental Gardens Sheikh Zayed Compound.
Find your apartment in Continental Gardens Compound on Aqarmap
Details About Continental Gardens Compound
The Compound has a wonderful design making it one of the finest residential compounds in Sheikh Zayed City in particular and in the 6th of October City in general. The Compound is also characterized by widespread green spaces, swimming pools, water fountains, artificial lakes, and service areas. The construction area represents 16% only of the total area of the project.
The Continental Gardens project is divided into 3 phases, where the first and second phases have been completed and delivered. The third and final phase of the project is being delivered, so start right now to reserve your housing unit.
The Developer of Continental Gardens Compound
Almoez Holding Group is the developer of the Compound. The Group occupies a great status in the real estate market of Egypt and is famous for working in many tourism, industrial, commercial, and real estate fields inside and outside Egypt. 
Almoez Holding Group was established in 1975 and owns several companies working in the field of real estate investment in Egypt, Qatar, Syria, Iraq, and others.
The Group is distinguished by great experience and provides the best quality to satisfy customers and gain their confidence. The experience of the Company exceeds 35 years since its establishment. It has a large group of the most skilled architects, interior designers, and plenty of real estate experts.
Previous Works of the Developer of the Project
The previous works of Almoez Group include many huge projects, which proves the strength, experience, and nobility of this Company. 
The most famous projects owned by Almoez Group are: 
Continental Coast Village North Coast 

Continental Residence Compound in Sheikh Zayed

Continental Plaza Mall in Sheikh Zayed

Almoez Group Tower in Dokki

Rawda Zayed Housing Project in Sheikh Zayed 

Business Point Mall in Sheikh Zayed

Continental Gardens Compound in Sheikh Zayed

Continental Village in Nabq Bay

Almoez Plaza Mall in Sheikh Zayed 

Al Ahram Plaza Tower in El Haram
Prime Location of the Continental Gardens Compound
The Continental Gardens Compound is located in one of the most elegant and prestigious neighborhoods in Sheikh Zayed, i.e. the 12th Neighborhood. So, the Compound is close to the International Park, the international tourist and commercial city, and Almoez Plaza Mall.
Search for properties for sale in Continental Gardens Compound in Sheikh Zayed
Various Types of Units in Continental Gardens Compound
Almoez Holding Group, the owner and developer of the Compound, has allocated about 16% of the total area to buildings and construction. Therefore, green spaces, picturesque landscapes, and water bodies are widely spread in between the residential buildings. 
This indeed provides a clean healthy environment and a wonderful civilized appearance that attracts many seekers of excellence and sophistication.
On the other hand, the Compound includes various housing units, including apartments, duplexes, twin houses, and villas. All units enjoy charming panoramic facades with distinctive views over gardens or swimming pools.
Areas of Housing Units in Continental Gardens Compound
There are various areas for the housing units of the Continental Gardens Compound, ranging from 170 to 256 square meters.
Advantages of Continental Gardens Compound
The Compound features many advantages, the most important of which are as follows:
A private gate, a concrete fence surrounding the Compound, and great landscapes.

Security service and personnel to maintain the safety and security of the Compound and residents.

Wonderful group of plants and trees that create a beautiful atmosphere and reduce the temperature within the Compound.
Great Services of the Continental Gardens Zayed Project
The Compound provides plenty of services, the most important of which are as follows:
Bodies of water, fountains, and bridges are suspended over artificial lakes. All of these aesthetic touches make the Compound a beautiful, elegant, and distinguished place for lovers of the charming nature and pure atmosphere.

Areas for seating and enjoying the outdoors with wood pergolas in the middle of green spaces and gardens. So, you can enjoy quiet sessions of meditation and relieve yourself from the stresses of daily life.

Kids areas where kids can play, have fun, develop their skills, and make friends.

A group of shops to buy the finest well-known brands. Besides, if you look for a shopping mall near the Compound, you will also find Almoez Mall, which includes a large number of shops.

A range of restaurants and cafes to have your favorite meal and drink with services of the highest quality.

24-hour service areas to serve the residents, such as a supermarket and a large pharmacy.

Large open spaces to enjoy cycling and jogging.

A large clubhouse with different sports and courts, a large swimming pool, and a large gym with the latest sports equipment to maintain fitness.

Parking lots so that residents can find safe places within their cars. There are also many surveillance cameras in vital places within the Compound.

Entrances of buildings are made of shiny marble, which adds more luxury and sophistication. There are many lampposts and lighting fixtures.
Payment Systems: Facilities Over 7 Years
Now, you can own your unit in the third and final phase of the Continental Gardens Compound. You actually can buy an apartment, duplex, twin house, or villa with payment systems for up to 7 years. So, make a reservation and enjoy distinguished services, strategic location, various areas, and an unparalleled residential community.