Great Payment Plans in Rayos Compound in Sheikh Zayed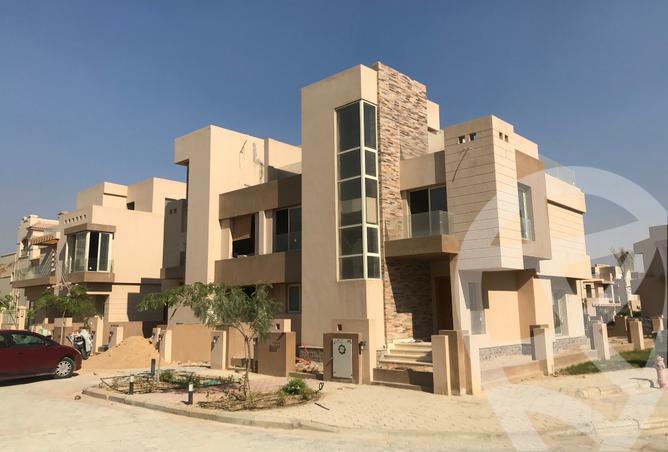 The Rayos project is located in the heart of Sheikh Zayed City on a large area of ​​about 500,000 square meters, only 18% of the compound space is buildings and the rest are green spaces and water bodies, which provides you and your family a clean, healthy, comfortable life that enjoys calm, comfort and privacy.
The residential units within the compound vary in terms of shapes and space to satisfy all tastes and social levels, as there are villas in Rayos Compound, duplexes, regular apartments, and town halls.
Details of Rayos Compound in Sheikh Zayed City 
The Rayos Compound in Sheikh Zayed is characterized by its scenic aesthetic views, and the vast green spaces that separate the residential units and some of them, so you will find your residential unit overlooking a stunning aesthetic view, surrounded by greenery, which provides you with the tranquility and recreation you are looking for.
The designs of buildings and real estate in Rios Compound are distinctive, as they combine sophistication and luxury as well as modernity, making them unique and attracting attention.
Prime Location of the Rayos Project in Sheikh Zayed City
Rayos Compound is located in a strategic location in Sheikh Zayed City, near the properties of 6th of October City.
The project is close to the Pyramids of Giza, the Haram Plateau, El Remaya Square, and El Haram Street, minutes away from Mohandessin, and only 20 minutes from downtown.
You can reach Rios Compound via many highways such as Haram Street, Faisal Street, 26th of July Corridor, Cairo, and Alexandria Desert Road, and the Ring Road.
The unique location of Rayos Compound makes it one of the best compounds in Giza because it is close to most of the vital areas in the area and also is characterized by calm and privacy away from the hustle and bustle of the city center.
Features and Available Services in Rayos Complex
Rayos Compound has many features that make it one of the best projects in Sheikh Zayed because it is a full-fledged compound with facilities and services, so you do not need to look for your requirements outside the compound. 
Everything your family needs will be easily found in your hands, and among the most important features and services available in Rayos Compound:
Only 18% of the compound's space is

buildings in Sheikh Zayed

, and the rest are green spaces and water bodies

Surveillance cameras, gates, security, and guarding 24 hours a day

Special surgeries for cars

Famous commercial shops in Sheikh Zayed

, restaurants and cafes

A private walkway for running and cycling

swimming pool

Sport club

Public gardens

Children's play areas
Types of Residential Units in the Rayos Project
Rayos Compound is located on an area of ​​500,000 square meters and includes residential units of different shapes and sizes, to satisfy all tastes and social levels, as there are

villas in Sheikh Zayed

, duplexes, regular apartments, and town halls

The apartments' spaces start from 150 to 200 square meters, the townhouses are about 250 square meters, and the villas' spaces reach 400 square meters

The project provides great payment facilities, so you can book your housing unit, pay a simple down payment, and pay the rest in installments over the number of years you want
More Information About Sheikh Zayed City

 
Sheikh Zayed City is one of the most upscale new cities, as the city enjoys a combination of modernity and original urban planning, which makes it an ideal choice for both the middle and wealthy class, and the city is characterized by vast green spaces, wide streets and European-style architectural planning.
The city was executed by the best real estate developers and engineers, so it attracts young investors, whether for housing or investment.
Sheikh Zayed City is located in the west of Cairo on the Cairo-Alexandria Desert Road, minutes away from the most important main roads such as the Mehwar Road, Al-Wahat Road, and the Ring Road.
Available Services in Sheikh Zayed City
Sheikh Zayed is a city with integrated facilities and services, whether basic or recreational. It is a suitable option for living, going out and hiking as well. Among the most important features and services in the city are the following:
Existence of strong transportation networks that help residents to reach any area within Cairo

Availability of large green spaces

Many malls such as Hyper One, Arkan Mall,

Capital Business Park

, Americana Plaza Mall, and Mall of Egypt

Many important schools vary between international, private, government, and experimental languages, such as Nile Kangaroo Language School, Beverly Hills Schools, the British School in Egypt, and Green Heaven Language School

Hospitals at the highest level such as Rufaida Medical Complex, Global Care Hospital, and Sheikh Zayed Specialist Hospital

Many public parks such as Zed Park and Adrenaline Park

Many sports clubs such as Al-Ahly Club

Lots of cafés, shops, entertainment venues, and cafés
Types of Properties in Sheikh Zayed City
Due to the availability of all types of projects in Sheikh Zayed City, there are all types of units and real estate in Sheikh Zayed with different areas.
There are various types of residential units to choose from, and we will show you the characteristics and advantages of each type of residential building.
Studio Apartments
This type of housing unit is my favorite among many young people due to its cheap price. It consists of one room, a kitchen, and a bathroom. 
The studio area does not exceed 60 square meters. Therefore, these housing units are not suitable for married couples due to the small space, but they are suitable for young individuals and workers.
Apartments 
Apartments in Sheikh Zayed are the most preferred types by young people, as they have a small space and facilities that suit the owners of this category, and the prices are suitable. 
They can consist of two or three bedrooms next to a living room, a kitchen, and a bathroom, and some apartments have room to receive guests and their prices vary according to the space and location.
Villas
It is a large independent unit with a garden with a wall surrounding it with a separate entrance, and often consists of two or three floors, and is suitable for large families, and often has a private tourism bathroom.
Townhouse
These residential units are similar in design and share side walls (they have only one common wall with each neighbor) and have a small garden.
Twinhouse
It is two houses that share only one common wall, and each house has a separate owner with a separate entrance and a separate garden.
The duplexes in Sheikh Zayed are two full-room units connected by an internal elevator, so each floor is considered a separate unit from the other. These residential units are suitable for large families.
Penthouse
The penthouse in Sheikh Zayed is on the upper floors of high buildings, accompanied by the roof. It is characterized by privacy because it is completely isolated from its surroundings, as it is very similar to a villa.