Luxurious Villas in Sulaymaniyah Gardens Compound in Sheikh Zayed City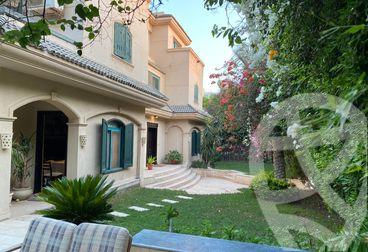 Sulaymaniyah Gardens Compound

in Sheikh Zayed City is a project for villas only, as it includes about 100 villas in Sheikh Zayed City with a service area, a club, many green spaces, gardens, and internal roads.

The Sulaymaniyah Gardens project is one of the distinctive residential projects in Sheikh Zayed City because of its location directly on Al Bustan Road in the Fourth District, which is known for its villas, palaces, and luxury homes.

The villas within the Sulaymaniyah Gardens Compound enjoy high privacy due to the green spaces that surround them from all sides, in addition to the tree wall that surrounds the compound.

The villas in the compound are also distinguished by the modern design around the club and the service area, as it is an integrated compound that includes everything that customers need from a mosque, a large football field, a private garden in the compound, a service area, a commercial mall, cafes, and restaurants.
List your property for sale or rent on Aqarmap!
Prime Location of Sulaymaniyah Gardens Project in Sheikh Zayed City
The Sulaymaniyah Gardens Compound is located in the fourth district of Sheikh Zayed City, directly on Al Bustan Road, next to the Mohandessin and Al Jazeera Gardens, and steps away from the 26th of July axis.

Among the most important landmarks near the Sulaymaniyah Gardens Compound are Nile University, 5 minutes away, Mall of Arabia, less than 10 minutes away, the Urban Communities Authority,

Al Bustan Square

, Al Sahaba Mosque, and the International Branch of Cairo University.
More Information about Sheikh Zayed City
Sheikh Zayed City is one of the new cities located in the west of Giza Governorate and is characterized by its location close to the areas of downtown Cairo,

Mohandessin

, Haram, Faisal, and the real estate of Sixth of October City

It is also characterized by a good division, as it includes about 20 residential neighborhoods, in addition to many resorts and large residential projects, in addition to a wide range of distinctive services that suit it, such as schools, universities, hospitals, sports clubs, gardens, parks, and recreational places for adults and children

Sheikh Zayed City is divided into about 20 neighborhoods with a harmonious distribution over the entire area of ​​49 square kilometers, and the green space represents a large proportion of this area, as it is one of the second-generation cities that enjoys fresh air and mild weather throughout the year due to its height above sea level.

The executing company of the Sulaymaniyah Gardens Compound and its most important works

Sulaymaniyah Gardens Compound was implemented by many real estate development and development companies with the land allocation system, with full compliance with the city's building and planning standards, as these lands and most of the fourth district was allocated to villas and luxury homes, not Al Amarat that contain apartments.
Advantages of the Sulaymaniyah Gardens Project 
Sulaymaniyah Gardens Compound has many features that make it one of the top 10 compounds in Sheikh Zayed City, and the most important of these features are:
The great location near the 26th of July axis and the entrance to Sheikh Zayed

Green spaces, which represent more than 40% of its total area

Gym and large playgrounds

A special commercial area in Sheikh Zayed City, restaurants and cafes

A large indoor mosque in the center of the compound

A distinctive design for the villas, so that each unit preserves the privacy of the residents

Amidst a group of the best compounds in the city

Besides universities, schools, hospitals, and parks
Types of Units In Sulaymaniyah Gardens Complex
Sulaymaniyah Gardens Compound includes a large group of villas, twin houses, and townhouses, and most of the properties in Sulaymaniyah Gardens are luxury villas with attached gardens.

The residential units and villas in Sulaymaniyah Gardens Compound are characterized by their consistency, as they are all villas, even the rest of the types, as they are similar to standalone villas, but differ in size and design.
Details of Areas and Designs of Units in Sulaymaniyah Gardens Project 
The spaces and designs vary within the Sulaymaniyah Gardens Compound, so all families will find what suits them, whether in terms of spaces starting from 190 square meters up to 600 square meters or in terms of the design that comes in the distinctive brick red color of the villas and gives an impression of luxury, sophistication, and consistency.

There are also many spaces available for villas within Sulaymaniyah Gardens, there are villas with an area of ​​200 square meters, there are twin houses with an area of ​​250 square meters, and there are townhouses and houses with an area of ​​300 square meters, and all of these units come with a private garden.

It is possible to get a residential apartment in Sheikh Zayed City inside one of the villas, whether on the ground floor with the garden or in the latter with the roofs or roofs, all of which are options offered by the Sulaymaniyah Gardens Compound to provide a life of European luxury in Egypt.
Prices of Units in Sulaymaniyah Gardens Compound
The prices of villas in the Sulaymaniyah Gardens Compound vary according to the location, area, and type of finishing, and they are suitable prices for the high-end units offered by the project, including villas, twin houses, and townhouses, worthy of high-end families looking for homes and residential units that meet their requirements and achieve their dreams.
The price per square meter in Sheikh Zayed City in Sulaymaniyah Gardens villas starts from 12,000 pounds and reaches 18,000 pounds, and there are units where the price per square meter starts from 15,000 pounds and 17,000 pounds.
Advantages of Living In Sulaymaniyah Gardens
Life in the Sulaymaniyah Gardens Compound is a great transition and a huge change that the whole family will feel. Children will find what they are looking for in gardens and open areas, young people will find sports fields, clubs and paths for cyclists, manage and walking, and adults will find everything the family needs from malls, shops, restaurants, cafes, and other things. Services that are spread around and within the project.
Residents of the Sulaymaniyah Gardens Compound will enjoy many advantages, the most important of which are:
Great location next to all the main roads in the city

The good design and privacy enjoyed by all properties in Sheikh Zayed City

Provides services all the time, from commercial malls and restaurants

Proximity to schools, universities, and sports clubs

It offers home units and villas in many spaces and designs
Units finish with the highest quality standards
A variety of spaces suitable for all families and families
Features of Sheikh Zayed City
Sheikh Zayed City is one of the distinguished cities suitable for life and stability for families and families with high taste and high requirements. It provides all services and advantages for its residents, including restaurants, schools, universities, hospitals, medical clinics in Sheikh Zayed City, restaurants, cafes, and commercial malls.
Sheikh Zayed City brings together many features that are not found in other cities such as New Cairo or 6th of October City, and these features are:
The location is between the most important main roads such as the 26th of July Corridor and the Desert Roads

Good division, whether in residential neighborhoods or private compounds

Availability of all services at any time and for all levels

The spread of green spaces in the city

The city has two large central parks

Ease of access from all areas of

Greater Cairo

The presence of many universities in the city

A great city for those looking for fresh air

The city has an ideal community for life both in terms of people and services