Things you don't know about Marassi North Coast
Units' prices and other new pieces of information about Marassi Resort in the North Coast.
If you want to spend a special summer while enjoying the charming nature, if you love beach sports and want to relax in the sun and calm clear waters, you are looking for a Marassi resort on the North Coast.
Units designs vary from Egyptian, Moroccan, Tunisian, the Greek pattern; simulated from Santorini Greek island, to the Spanish and Italian patterns that make you feel as if you are making a tour around the world.
Fast facts about Emaar Misr
Marassi is a project of Emaar Misr; one of the major real estate companies in Egypt which has developed the largest and most ambitious projects like Mivida and Uptown Cairo. The company tends to build up unique communities with a special lifestyle, as the company is one of the major investors which directly contribute to the revival of the Egyptian economy.
Privileges of Marassi North Coast
Marassi Resort in the North Coast is one of the distinctive resorts for its geographical location in the Gulf of Sidi Abdel Rahman and near the city of El Alamein. Moreover, Marassi Resort overlooks the Mediterranean coast with a clear water of 6.26 km, divided into 14 areas each with its own nature.
Emaar has set a new standard of excellence in Egypt through hiring the best international architects and designers. The areas are designed to move the senses and stimulate the mind, in addition to the spacious balconies which offer breathtaking turquoise sea views and endless beaches. For facades, they are simulated from the Mediterranean Sea. Thus, each area represents a unique combination that creates its individualized character which gives the residents the opportunity of enjoying the natural beauty and the romantic lifestyle gathered in a complete harmony.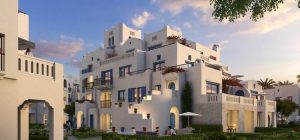 Marassi location
Marassi is 125 km away from west Alexandria City and few kilo meters away from El Alamein City. The village overlooks the Mediterranean Sea with a total space of 6,500,000 M2.
More details about Marassi North Coast
Entertainment areas for kids and adults are allocated with a consideration of achieving variety of interesting and entertaining activities. Moreover, Marassi Resort in the North Coast is planned to be an international destination, as an international Marina, that attracts tourists from all over the world.
Units ' areas in Marassi start from 73 M2 according to unit type, with the availability of different designs like the Spanish, Greek, and even the Florentine patterns.
Units' prices in Marassi North Coast
There are several types of units; Apartments, twin Houses, separated villas, and townhouses
Apartments' areas start from 73 M2 to 480 M2, with prices* start from EGP 2,396,888 to EGP 12,576,888
Townhouses' areas start from 232 M2 to 327 M2, with prices* start from EGP 7,211,888 to EGP 11,035,888*
Separated villas' areas start from 322 M2 to 785 M2, with prices* start from EGP 11,119,888 to EGP 48,241,888
Twin houses' areas start from 363 M2, with prices start from EGP 8,898,888*
Marassi also affords payment facilities by paying 5% as a down payment, then 10% as a second deposit, and the rest of the amount is paid in installments up to 7 years.
Marassi touristic settlement services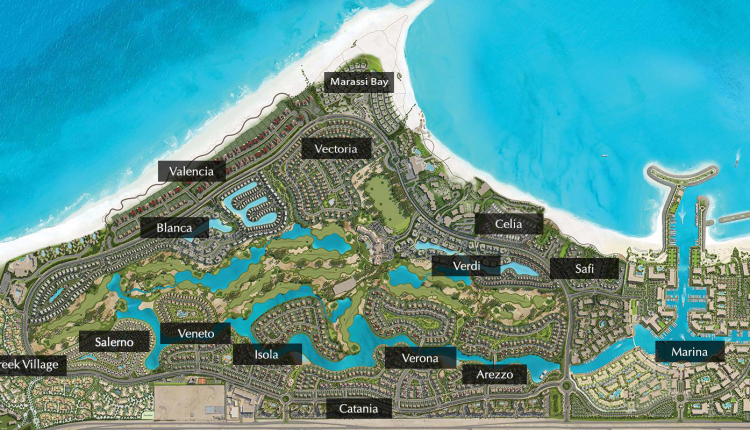 In addition to the various residential units, Marassi resort encompasses 3,000 hotel rooms, golf club, a hospital, and shopping and entertaining centers.
Fans of exploration, yachting and sailing will find what they are looking for adventures at the International Marina at Marassi Resort on the North Coast. Inspired by life in the French Riviera with a touch of Egyptian beauty, the Marina is the largest yacht marina in the Middle East. In addition, the site itself is a tourist attraction and offers comfort, safety and entertainment with international standards.
* Please note that all prices mentioned in this article are for the first quarter of 2019 and subject to change, and we in Aqarmap try to update them regularly in our prices guide of districts.  Choose between different spaces and  styles in the best resorts in North Coast, you would find many payment plans that suit all.