Bay Condos Resort in Sahl Hasheesh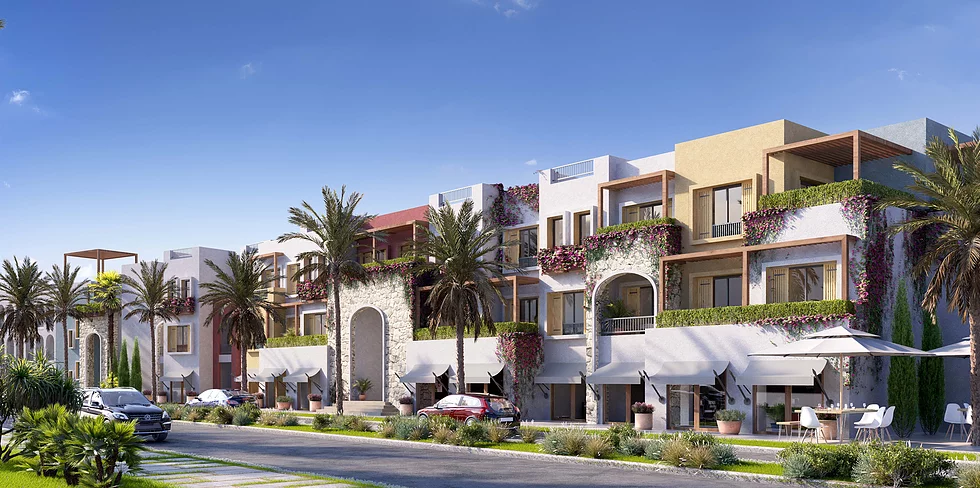 Tourist resorts are among the most important places people go to spend their holidays with the aim of relaxation and recreation, and to have a good time away from the noise and hustle of lively cities, to be able to renew their energies and vitality, to return to their daily activities actively so here is Bay Condos Resort in Sahl Hasheesh in Hurghada, which was established under the supervision of the Egyptian Resorts Company.
Details of Bay Condos Resort 
Bay Condos project is a tourist resort that was established in Sahl Hasheesh in the Red Sea, to create a diversity of real estate units established in Hurghada and the tourist cities in that area.
The construction work on the project began in 2020, and the project is expected to be completed by 2023.
Among the real estate projects adjacent to it is the Bay Village tourist resort project, which was established by the same real estate company.
Chalets for sale in Sahl Hasheesh
Prime Location of Bay Condos Resort
Bay Condos Resort is located in the Sahl Hasheesh area of ​​Hurghada in the Red Sea, specifically within the old commercial city.
The city of Sahl Hasheesh is 18 kilometers from Hurghada, and 450 kilometers from Cairo Governorate.
Sahl Hasheesh region is one of the largest sources of tourism investment in the Red Sea. It is also famous for being a "wealthy tourism" area and also includes some golf courses, an underwater Pharaonic city, a marina full of yachts, and a cinemas complex.
 Sahl Hasheesh: A Global Tourist City in Egypt
Sahl Hasheesh is characterized by a high degree of air clarity, purity of seawater, and picturesque nature. Its climate is warm throughout the year, making it a destination for tourists in both summer and winter.
Sahl Hasheesh is a hotel city that does not contain ordinary housing, and its corniche is 6 km long, where many activities and sports and water games are held.
The Real Estate Developer of Bay Condos Resort 
The project was implemented by the Egyptian Resorts Company, which is a pioneering company in the field of establishing tourist resorts. It is also specialized in selling lands and managing tourist and residential complexes.
Previous Works of the Egyptian Company for Touristic Resorts:
Resort 270 in Sahl Hasheesh

Suari Marina Resort (under construction)
Types of Units in the Bay Condos Project
Bay Condos Resort was built on an area of ​​2,525 square meters, to contain a building area of ​​4,200 square meters, in the residential area, and an area of ​​1,210 square meters in the commercial area.
The Egyptian Company for Touristic Resorts has been keen on providing a wide variety of real estate available within the Bay Condos Resort to satisfy the different tastes and requirements of Egyptian and foreign guests. These units are:
Studios: They are relatively limited space units consisting of a bedroom connected to a kitchen, bathroom, and living room

Condos: units that are similar to

apartments in Hurghada

and are owned by their residents and not rented, and their sizes and specifications vary

Chalets with different designs in Sahl Hasheesh
Add your listing to Aqarmap to reach millions of users
Areas and Designs of Units in Bay Condos Complex
Bay Condo Resort project contains a variety of units, it has studios of different sizes and all are relatively small compared to other types of units.
It has condo units available in one, two, or three rooms, so the customer can choose what suits him between these options, and the total number of units is residential in Sahl Hasheesh, the project is about 60 units.
Available Services of Bay Condos Resort 
Bay Condos Resort is characterized by many services that provide a distinctive tourist experience to its visitors, some of these services are:
An integrated security team is available all hours of the day to protect the residents and visitors of the resort

The resort contains many modern surveillance cameras installed in various areas so that visitors can be reassured wherever they are inside the resort

Bay Condos Resort has many swimming pools suitable for adults and children, distributed over more than one area of ​​the resort so that residents of the various units can use them

The resort has places designated to receive cars and maintain them for the duration of the visitors' stay at the resort

Inside the product, there are large green spaces that can be used for running and jogging activities and various gatherings

The resort includes an area of ​​international restaurants and cafes, offering visitors high-quality food and drinks

Inside the resort

in Hurghada, there is a commercial center

with a branch of international stores for clothes, appliances, and various needs
Features of Sahl Hasheesh
Sahl Hasheesh is considered one of the most amazing cities overlooking the Red Sea, which has received a great number of visitors and tourist investors in recent years, due to a set of advantages that characterize it, these features are:
Prime Location
Sahl Hasheesh is distinguished by its privileged location on the shore of the Red Sea. It is located on the longest bay in the Red Sea, specifically between Hurghada and Safaga. 
It is also located 450 kilometers from Cairo, which is an average distance compared to other Red Sea cities.
European Resorts 
The city of Sahl Hasheesh can compete with European tourist resorts, especially because the real estate tax is lower than the tax in Europe, which attracts Arab and foreign investors as well, and this is supported by the fact that it is close to Hurghada Airport, an international airport that provides direct flights to various cities of Europe.
If you decide to invest in Sahl Hasheesh or visit it for your vacation, you will find dozens of resorts. The luxury resorts in Hurghada is ready to welcome you and will provide you with high-level hotel services
Lots of Fun Activities
There is nothing more than tourist and recreational activities that you can enjoy in the city of Sahl Hasheesh. 
You can practice diving and snorkeling to see the unique coral reefs, through many diving education centers spread within the city, and you can visit some famous landmarks such as the sunken Pharaonic city, which makes it suitable for youth trips and a honeymoon.
Relaxation
If you are interested in visiting tourist resorts for recreation, choosing the city of Sahl Hasheesh will be an ideal choice, as it is characterized by a unique degree of purity of the air, clear water, and healthy sunshine that makes the experience of relaxing activities inside it unparalleled.