Know About the Princess Palace and Club Hotel in Hurghada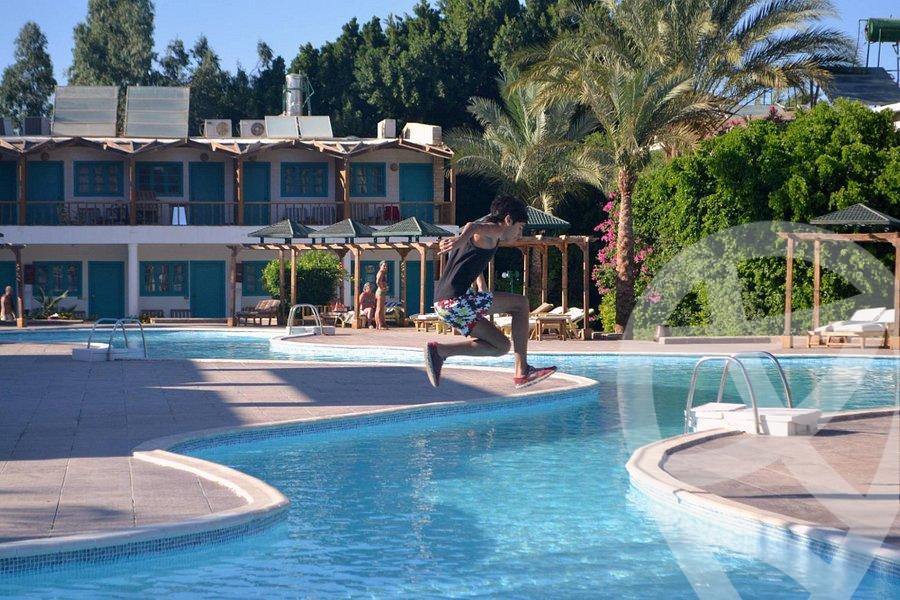 The Princess Palace and Club is one of the most famous and luxurious hotels in the heart of Hurghada. It is a 3-star hotel and provides a great opportunity for those wishing to enjoy a summer vacation directly on the sea and all the high-quality hotel services. 
You can enjoy quality, tranquility, all means of comfort and luxury, and various sports and recreational activities in one place.
The hotel features an excellent strategic location, so it is close to all other cultural areas, hypermarkets and shops, and commercial centers in Hurghada. Therefore, guests can easily buy goods, various supplies, souvenirs, and all their needs and tour the city. 
The hotel also offers various services to meet the needs of customers and provide them with comfort and enjoyment throughout their stay.
Find a chalet for rent in Princess Palace Club & Hotel on Aqarmap
Prime Location of Princess Palace and Club Hotel
The hotel is located in Hurghada, specifically in the Intercontinental area, which is characterized by proximity to all means of transportation. So, customers can visit various tourist places. 
The hotel is also about 1.2 km away from Samaka Beach and 800 meters away from Steigenberger Aldau Beach Hotel. It is about 5.9 km away from the properties of Aldau Village Mall, about 3.5 km from Hurghada International Airport, and 56.1 km from Safaga Bus Station.
An Overview About Hurghada
Hurghada is the administrative capital of the Red Sea Governorate. It is located in an area of ​​40 km away from the coastal strip of the western shore of the Red Sea. It was named after the Hurghada plant that naturally grows in it. 
The city also enjoys the bright sun and wonderful coral reefs, in addition to many attractive and interesting sites that make it a great destination for tourists to relax and unwind.
Hurghada also includes many charming beaches, clubs, and golf courses. There are many activities that tourists can enjoy in the city, as it is one of the most beautiful tourist areas in Egypt. 
It is characterized by a variety of tourist attractions that fascinate everyone. It is also unique in a wonderful location on the Southwest of the Red Sea and is about 500 km away from Cairo real estate.
Features of the Princess Palace and Club Hotel
The hotel has many features and services that attract tourists and visitors from everywhere. The most prominent of these features are as follows:
Public Utilities
The hotel has central air conditioning for a cool and pleasant atmosphere in the summer. It also has a bar serving various drinks, and a free internet connection for all customers. 
There is a central restaurant that serves delicious food for guests, a parking lot, and a currency exchange service. There is also a 24-hour front desk to answer all inquiries of guests. There is also an elevator to facilitate access to the upper floors.
Various Activities
The hotel includes a fitness center for sports enthusiasts, a spa and massage sauna to help guests restore energy, water sports, and bicycle rental. The Hotel has a charming beach with wonderful views from the housing units in Hurghada. 
It also includes a nightclub, a souvenir shop, swimming pools for elders and kids, aerobics, basketball, volleyball, pool table, kayaking, and diving, and water skiing to be enjoyed during the stay.
Security Services
There is a safety deposit box to keep all belongings and personal items in safety, surveillance cameras, and 24-hour security service.
Calmness and cleanliness
The hotel enjoys calmness and plays quiet music in the reception for the comfort and relaxation of customers. Also, there is great attention to cleanliness and the services of arranging and cleaning rooms at the highest level.
Details About Rooms in the Princess Palace and Club Hotel
Rooms include a wide range of amenities for guests. They are carefully appointed for the satisfaction of the customers and all are equipped with a flat-screen TV, good ventilation, comfortable sofa, minibar, and private bathroom to ensure comfort.
There are also single, double, and triple rooms according to the number of guests. There are rooms with King Beds for married couples.
Find a chalet for rent in Sahl Hasheesh on Aqarmap
The Most Famous Tourist Attractions in Hurghada
Soma Bay
Soma Bay Resort is one of the most famous tourist attractions in Hurghada. It is located 60 km north of Hurghada and extends over an area of ​​13 million meters. It also has excellent urban and architectural planning and various services. It includes 3 main locations, Sheraton, Residence de Cascades, and Robinson Club.
Makadi Bay
Makadi Bay is one of the most famous tourist areas in Hurghada and is located 35 km south of Hurghada city center. It is characterized by the shining sun throughout the year, charming beaches, and natural sands. It is also an integrated and ideal tourist resort for holidays, water trips, diving, and snorkeling. It includes a group of hotels that provide excellent hotel services.
Carlos
Carlos Reef is one of the most beautiful and famous diving sites in Hurghada. It is characterized by a lot of coral forests and different types of fish, such as rare hammerhead sharks, jackfish, tuna, barracuda, giant moray fish, and clear water. The depth of the area is about 16 km, making it suitable for scuba diving.
Sahl Hasheesh
Sahl Hasheesh is the most prestigious tourist resort in the heart of Hurghada. It has an area of ​​32 million square meters and includes 1,560 hotel rooms equipped at the highest level. It also includes 679 housing units in Sahl Hasheesh, an open theater, and is surrounded by wonderful coastal beaches.
Abu Ramada
This area is called the "Aquarium", as it has flat water, and includes much colorful fish and charming coral reefs.
El Gouna
El Gouna is based on a group of islands. It is an integrated tourist community on the Red Sea coast and is 22 km from Cairo Airport. It also achieves self-sufficiency in most services and includes various and famous international hotels. It also has many water channels to enjoy coral reefs and charming water.
El Gouna includes many different resorts and neighborhoods, each with a distinctive character and design. For example, it has the Italian neighborhood, the Nubian neighborhood, and Downtown, which is the most famous neighborhood of El Gouna.
Know more about different resorts you can find in Hurghada on Aqarmap!