Lead Peaceful Life in The Village Compound – Fifth Settlement
After a long day at work, who wouldn't want to go home to a truly relaxing place? The fast pace of our city lives sometimes takes all the peace out of us, which can get awfully draining. So, do we just surrender to this ever-fastening ride? Obviously, the answer is no! Beautiful districts like Fifth Settlement in New Cairo are made specifically to offer you the peace you long for in your everyday life. Quiet and conveniently isolated from the hustle of Cairo, living in Fifth Settlement will be the best choice you've ever made!
Above that, integrated compounds like The Village can dramatically enhance your life, giving you much more time to relax and catch your breath. It's safe, it's convenient, it's really all you've wished for in a home. 
The Developer Behind The Village Compound
The Village Compound is developed by Palm Hills Developments, following a vision to create self-sufficient and well-integrated communities in Egypt. 
The company was founded in 2005 by the leading real estate investment and development company, Mansour and Maghrab. 
What makes Palm Hills such a successful firm is its continuous progression and the ability to offer more in their projects than most other companies can. Palm Hills owns a huge amount of land, making up 26 different projects distributed all over Egypt. Perhaps one of their most beautiful projects is Casa Palm Hills in Sheikh Zayed, a truly one of a kind residential compound. 
Palm Hills continuously took opportunities by acquiring land offered by the government in strategic locations, eventually holding the largest land banks in Egypt of over 757,000 square meters. With a diverse multitude of projects, the company is clearly ahead of its competing companies. Palm Hills is responsible for the development of tens of successful real estate projects, perhaps their most famous being Hacienda Bay in the North Coast and Palm Parks in 6th of October. 
A Tour Around The Village Compound
This compound is easily the most prominent residential project made by Palm Hills. Stretching over 105,000 meters, you'll find that only 68 thousand of them include buildings. There is plenty of space for landscapes, services, and everything that can make your life much better. 
And we're not the only people who love The Village! At Cityscape 2014, the Village Hills Residential Project was awarded the Best Residential Project built-in 2014.
The project was officially delivered to its checkpoint in 2014.
Compound's Location
The Village lies only 5 minutes away from Suez Road and very close to the AUC. You'll find this location absolutely convenient due to it lying close to several schools, universities, shopping malls, and governmental headquarters. After all, you probably won't even need to leave the compound!
Services You'll Be Getting in The Village
The compound offers you a variety of different services. If you're athletic, you will definitely enjoy the health club, Squash and Tennis Courts. Even if you're not into sports, there are areas just for walking and cycling.
Families can guarantee the well-being of their little ones in the compound's Kindergarten and playgrounds. 
Other than that, there are plenty of adult swimming pools around the compound, along with a waterpark.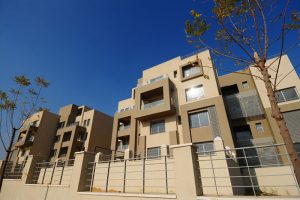 The Privilege of Living in The Village 
If you're not looking for residential opportunities, The Village provides commercial units as well. Through the diverse unit options, you will surely find what best suits you. 
A relaxing view of vast landscapes might be exactly what you need, and it's exactly what you'll find in The Village compound. 
Prices in The Village
The average price of a square meter is about EGP16,000: about EGP2.5 million for an apartment of 150 square meters. There are studios of 67 square meters which cost about EGP1.25 million. 
You can also find penthouses of EGP13,000 per square meter, which makes up about EGP3.5 million for a 270 square meters penthouse. 
Payment Methods
Because the compound was delivered quite some time ago, you have two payment options. You can either pay in cash, or you can buy it from a resident who has not finished paying their installments and proceed to complete them. 
Prices were last updated in January 2019. 
Start searching for compounds in the 5th Settlement on Aqarmap