Learn about the difference between classic and modern styles before designing your home
Selecting the right style or pattern for your house is a difficult decision for some people, due to different opinions, needs, and data that may somehow determine the direction of the design. Each house has its own requirements that the designer must take into account when choosing a suitable style. Now, we will provide you with a simple guide to know the difference between classic and modern styles before designing your house so that you can easily select what you prefer.
In this guide, we will learn about the difference between the elements of classic and modern styles and will mention the best and most appropriate for each of them, so that you can make your decision when you finish reading this article.
Roofs
In recent or modern style, roofs are simple and often made with one or two levels at most, in order to allow for making skylights and orderly distribute the spotlights in an invisible way. But as for the classic roofs, they are usually made in more than one level and decorated with decorative cornices. It is possible to choose patterns for roofs themselves or geometric divisions encrusted with gold, in addition to the need to use classic chandeliers and spotlights for lighting. But it is indispensable for a major lighting unit, unlike the modern style that allows dispensing with the main lighting unit and relying on spotlights only.
Walls
Walls in the recent or modern style usually made plain, and the designer relies on paints and wallpaper, and sometimes on decorations made of gypsum board.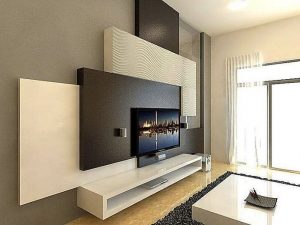 As for the classic style, mostly you will find them decorated with wall panels and gypsum decorations as well. There is no mind to choose wallpaper with classic patterns and velvet paints with different effects.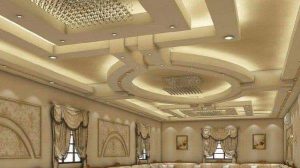 Furniture
Classic furniture differs from modern furniture in several aspects, including colors, shapes, materials, and more. In modern style, for example, you will find furniture completely covered in upholstery, unlike the classic style where the structure of the furniture is exposed and decorated with patterns and decorations.
In terms of colors, modern style is open and accepts all options, but bold and straightforward colors remain the symbol of modern. But, in classic style, golden and brown are always heroes of the scene, and comes with a different group of colors according to taste, adorning the design and highlighting it.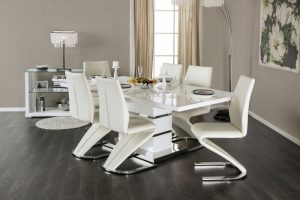 In the classic style, some pieces of furniture, such as salon and niche are still necessary, but in modern style, you can easily choose what suits your needs and space.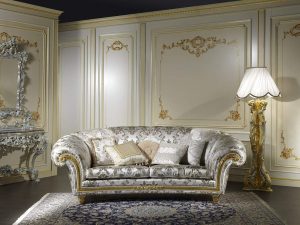 Floors
Floors remain a golden key that solves many decorative crises. One of the most common features of decorative patterns is flooring, as we can use a wooden floor in both classic and modern styles.
In addition to ceramic and marble floors that also fit modern and classic styles, the only difference remains the shape and color of the used ceramic, and the patterns chosen to decorate the space flooring.
Start searching more information about interior design on Aqarmap Blog
Inscriptions and motifs
Inscriptions and motifs differ in each style, but what distinguishes the modern style is the use of geometric figures and uncomplicated or overlapping motifs, unlike the classic style which is distinguished by its subtle and overlapping details or knots, and sometimes use of decorations related to the history or culture of the surrounding place or environment.
Colors
As we previously mentioned, colors in the modern style are bolder than in the classic style. They open a wide door without restrictions to choose the preferred color and use it in the interior decoration of your home, and in every space according to his job and needs. But the classic style still retains its reverence, traditional features and use of brown color and its abundant degrees, which allows for adding one or more colors while maintaining the quiet and dignified characteristics of the design.
It's also common in classic style to choose walls in white, off-white or gray, but lately you'll find trends to break down the stereotypes and choose bold colors for walls like black, blue and green. Here, we can call it neoclassic or modern classic.