Top 10 Furniture types to have in your House
Here, you will find some easy and simple advice to get the most out of your house furniture.
There are different types of furniture. Furnishing your house is one of the most difficult tasks that only few people can accomplish without making any mistakes. That's why many of us seek the help of interior designers to arrange the house and use its spaces in the best way possible, and, of course, to choose every piece according to the desired style. Today's house is not only walls, floors and ceilings, the furniture also plays a central role in making it beautiful. In this article, we will talk about the most important items that you must have.
Top 10 Furniture Types in Your House
The Wardrobe as an important furniture piece
You may think the I meant your bedroom wardrobe only, however, the tidy house should have a dedicated wardrobe for each room that suits the need and available spaces, such as:
Kids Bedroom
Wardrobes are an essential element of your kids' bedroom, whether they are easy to use and within their reach or not. You can also replace them with boxes that add a nice touch to the room, as well as exploiting the empty spaces under their beds.
The Kitchen
A modern approach in the kitchen changes the ordinary and familiar design by getting rid of the closed closets and replacing it with open shelves and boxes and drawers.
The Bathroom
Bathroom closet is one of the items that most people forget about, leaving a messy place where towels and stuff are everywhere. Therefore, don't disregard its importance as you can exploit the corners within a low-budget and install some shelves to help you stay organized.
Coffee Table
Designed with great attention to details, the coffee table has become an essential element of your reception room. It is not only to serve tea and coffee to your guests, but also can be a small library or a storage box. When choosing a coffee table, you should pick a light one that is easy to move around.
A Library
Having a library is not a luxury these days in a modern house. You should have a reading corner that is quiet and well-lit to enjoy your time with your favorite books. You can design your own library in one of the following locations: 
Above the bed

In the living room

TV Library

Kitchen Shelves

In the passages

Unused corner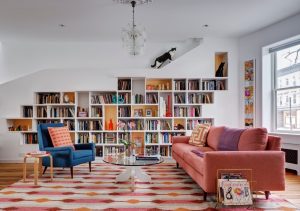 Comfy Chairs
Chairs are one of the most important types of furniture on your list when shopping for your house.  A comfy chair in the house means that you can relax or sit down working in the correct position. Most of these chairs are made out of leather and have an adjustable range of movement. You can find lots of modern designs nowadays, specifically made for giving your back the utmost comfort.
Different Lighting Sources
Lighting in different sources and styles plays such a major role in any interior design. It can be chandeliers, lampshades, direct and indirect bulbs and many others.
A Desk
You may think that you don't need a desk in your home and you will never need one in the future either. However, by time passing, you will realize that a desk is one of the essential types of furniture and more important than many others. Desks come in a wide range of designs, surface areas, colors and materials. You can find a suitable one whether it is for kids, adults or businessmen.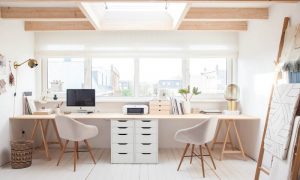 Dressing Table
Your bedroom is missing a lot without a dressing table in the corner. Our appearance is what we should take off on a daily basis before going out, and if you don't have a dressing table, you will be missing a lot in your day. Recently, new designs appeared in furniture warehouses that are very different from the old and classical styles. Nowadays, a person keeps only the mirror and one box for their stuff.
Bean Bags
A new item of furniture that has been introduced to us recently. Bean bags replaced traditional chairs that cause back pains on the long run. Meanwhile, making one of them by ourselves with basic materials is a piece of cake.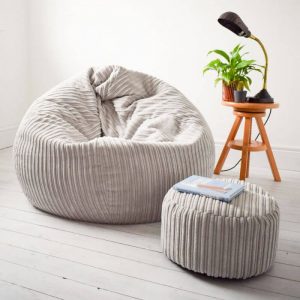 Accessories
Although the minimalistic approach that the world is taking nowadays to declutter unimportant possessions in our houses, accessories form special moments and events that are very close to our hearts and can fill any empty corners in our homes. 
Extra Beds
If you own a small house, then you should manage the available spaces in a smart way to get the most of it, whether it is an extra bed or an allocated space for your newly-born baby.