New Damietta: An Integrated New City
Owning a unit in a new residential city that combines all the advantages is one of the ways for a successful investment. In the new city of Damietta, which overlooks the Mediterranean coast, all services are available, which turned it into an integrated city in a strategic location, and only a few hours away from Cairo.
Details of New Damietta and Its Division
New Damietta City was established by Egypt's Prime Minister's decision No. 546/1980, 40 years in which it has witnessed rapid and infrastructural developments in. Afterwards, the 2018 presidential amendment placed it in a larger context of an urban development plan on a national level. This, in return, provided the area with better opportunities for expanding and including more services.
The total area of ​​New Damietta is 12798.31 acres; while its urban mass expands to an area of ​​7,960 acres. The city is located in the north of Damietta Governorate and extends on the Mediterranean coast with a length of 9 kilometers, and is 4.5 kilometers away from Damietta Port.  New Damietta is also known for including many recreational and entertainment services that provide its residents with a modern lifestyle.
New Damietta belongs to the first generation cities, which are affiliated with the General Authority for Urban Communities, and its goal is to provide integrated services for new urban and residential communities that cater to the different needs of the population. 
The city is divided into 6 neighborhoods, each with 6 districts, and there are 3 industrial, central and coastal areas. Moreover, there are constant and periodic development processes and maintenance services that reach EGP 7 billion.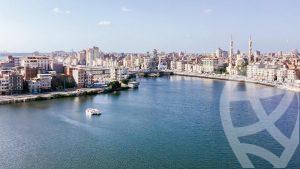 Location of New Damietta
New Damietta is located in the northern side of Damietta Governorate, which is one of Egypt's coastal governorates on the eastern side of the Nile Delta. It is only 17 kilometers away from Damietta's capital and it is also near Gamasa and Ras El-Bar cities. 
New Damietta is also 4.5 kilometers away from Damieetta's port and it extends over the Mediterranean coast for 9 kilometers. The distance from New Damietta to Cairo is 190 kilometers from Cairo and it is easily accessible through the 'Saheli Dawli' (International Coastal) road, and the Damietta-Kafr El-Sheikh road.
Residential Projects in New Damietta
New Damietta provides more than 86,404 residential units which are divided into private-sector projects and social projects, which are:
Premium residence: it includes 984 residential units

Average residence (Dar Misr): it includes 7,272 residential units

Luxurious residence (Janna): it includes 3,144 residential units

Egypt residence: it includes 3,840 residential units
Available Services in New Damietta City
In addition to being a tourist center and a successful investment and choice of residence, New Damietta includes different services that provide its residents with everything they need. Some of them are:
Health Services:
New Damietta includes private hospitals, military hospitals, and public hospitals, in addition to a hospital dedicated for mental and nervous disorders in the Fourth District. There are also Al-Azhar University hospital, Dar El-Oyoun hospital, El-Shorouk hospitals, in addition to a medical center and an ambulance station.
Educational Services:
New Damietta includes different schools that vary between military secondary education, government vocational education, and 26 primary and secondary schools. 
It also includes an international school and 5 private schools, including Thebes Distinguished Language Schoolو the Egyptian Nile School, the Japanese System School, Al-Azhar University, Horus University, and also Damietta University.
New Damietta also includes other stages of education such as higher institutes of different specializations such as engineering, management and tourism.
Public Services:
Sports clubs: Wadi Degla, El-Mostakbal, El-Mohandeseen sports clubs

Parks: New Damietta's Public Park, New Damietta's Cultural Palace

Shopping malls: Hady Mall and City Grand Mall

New Damietta's Stadium

Hotels: Casablanca Hotel, Paradise Residence Hotel, Fendi Lamar Azour Hotel, Point 11 Hotel

International cafes and restaurants
Business Districts in New Damietta
Aside from New Damietta's residential districts that include many services, there are 3 additional districts that are dedicated to commercial activities in New Damietta, which are: Central District, Coastal District, and Industrial District.
The Industrial Districts extends over 560 acres, and it includes many industries such as: leather, furniture, clothing, and engineering; and the number of factories in this districts reaches 444 factory that include Qal'et Kartoon factory, Shouman factory, Mobiliana Furniture factory, and Ghazala factory for vans.
The Division of New Damietta and Its Neighborhoods
As previously mentioned, the total area of ​​New Damietta is 12798.31 acres; while its urban mass expands to an area of ​​7,960 acres. Moreover, the city is divided into 6 neighborhoods, each with 6 districts, and there are 3 Industrial, Central, and Coastal areas. 
Currently, New Damietta includes 250,000 residents and is aiming to reach 500,000 residents by 2027.
Private Residential Projects and Compounds in New Damietta
The number of residential areas in private residential projects is around 62,800. Some of the most famous projects in New Damietta are:
Havana Compound: A coastal, recreational compound that extends over 40 acres and directly overlooks the sea. It includes many sports courts, swimming pools, and golf academies

Lu Ciel Compound: It extends over 38,000 square meters and 80% of its total area is dedicated to greeneries

Ethmar Compound: It also directly overlooks the sea and its total area is 22 acres. Its units vary between

luxurious apartments in Ethmar Compound

and villas, and palaces

Aseela Mini-Compound: It includes 5 residential buildings, a swimming pool, a service area, and a kids' area
Advantages of New Damietta City
Its strategic location next to Damietta Port (only 4.5 kilometers away), Gamasa, and Ras El-Bar

Its Industrial District that includes many factories of different sectors such as dairy products, furniture, and leathers

Many commercial and service roads

Its combination of both residential and coastal lifestyles since it extends over 9 kilometers on the Mediterranean coast 

It includes many levels of housing: economic, average, and luxurious

Its meticulous attention to green areas and recreational activities

It includes educational services for all stages

It includes hotels such as Casablanca Hotel and Paradise Hotel

It is an integrated city that is a great option for different types of investments 
Famous Landmarks of New Damietta
Damietta University
Established in 2012, Damietta University is one of the most famous landmarks in New Damietta city as it includes many majors such as literature, artificial intelligence, commerce, sciences, law, engineering, applied arts, medicine, nursing, tourism, among other majors. It focuses on contributing to the field of research and its total area is 200 acres.
Streets:
El-Sa'edi (Hasballah El-Kafrawy) street

El-Bishbishi street

El-Tahawi street

Port Said street
Compounds:
Havana Compound

Ethmar Compound
Sports Clubs:
Damietta Ports Club

El-Mohandesseen Sports Club

El-Mostakbal Club

Wadi Degla Sports Club

Damietta Stadium
Prices of Renting and Owning Residential Units in New Damietta City
The prices of units in New Damietta City vary because of the different types of units the city has, and the difference in the levels of housing (luxury, medium and distinctive housing). 
Prices range between EGP 120,000 and EGP 300,000 for low-income or rental units, and they reach an average of EGP1 million for distinguished units. However, you can always find the updated price list on Aqarmap that is constantly updated based on the latest trends.
Start searching for a wide variety of properties on Aqarmap!