Explore White Villa Resort of Hurghada!
White Villa resort is one of El Gouna magnificent villages and resorts in Hurghada. It is located on the Villages Road over 36 kilometers from Hurghada Airport.
The resort is featured with an attractive- well planning design. Moreover, it lands on one of the eye- catching regions of the world which is the city of El Gouna.
In addition, it has a mild weather with a charming nature and its delightful beaches that includes plenty of aqua activities from diving and water sports that suit all ages.
Due to the picturesque nature surrounding the resort, imagine living in White Villa resort like living in Asian coastal islands.
The resort contains 5 stages; it will include the construction of more than 300 units of various sizes and models among villas, apartments and duplexes.
With its vast green areas where landscapes, it was made to provide a higher level of serenity and luxurious live in the middle of trees, gardens and plants. The resort also has a very distinguish style for buildings and green spaces.
It also provides transportation for ease access to and from the resort, as well as transportation to and from the airport.
A transportation line was especially built to the residents of the resort, added by providing different services.
DISCOVER MORE ABOUT THE WINTER VACATION IN HURGHADA
Location of White Villa Resort
White Villa resort is located off New Marina over 31 Kilometer away from El Gouna. It is only 31 kilometers away from Giftun Island; one of the most exotic islands of Hurghada.
It is not far from the most important landmarks of El Gouna; Aquarium Living Museum in Hurghada. This Museum is full of million liters of water, filled with many marine creatures. Many tourists visit this Aquarium to see the most wonderful marine creatures. It is only 40 kilometer away from White Villa Resort, and 42 kilometer away from Senzo Mall.
The International Hurghada Airport is considered the nearest to White Villa, just 36 kilometer away from it.
White Villa Resort's Services
White Villa resort was built at the highest level as an integrated-tourism compound. It offers services and facilities filled with serenity and luxurious.
Among these services include the health of the residents, sports and fun recreational services for all, both old and young.
The residents that enjoys these services for instance:
Medical Clinics

Health Spa and Sports Club

Gymnasium, Jacuzzi and Spa

Running and Biking Tracks

Swimming Pools of different sizes

Nursery

Social Club for every Age and the elderly 

Garages

1,000 m² of commercial area contains of 30 units for hypermarkets, cafes, restaurants and grocery markets.

Tennis, football and basketball playgrounds

Kids area

Free WIFI in public places

Animals Shelter

Security services throughout the day with CCTV

Green spaces and landscapes

Turkish-glass facades 

Artificial lakes

Yacht ports

Enormous beach full of water activities
White Villa Resort's Units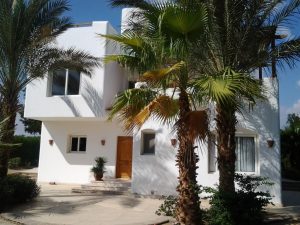 Green spaces and artificial lakes allocate around 80% of the resort's area, and the other 20% is for the residential units.
There are up to 800 m² areas for apartments and villas for sale inside the resort. It includes bedrooms, receptions, bathrooms, kitchens, private gardens and swimming pools.
The resort's units features state-of-the-art contemporary layouts. The units varied through its different 150 apartments and 150 villas. Besides, there are a diversity of areas in duplexes and penthouses.
KNOW MORE ABOUT SWAN LAKE RESORT IN GOUNA
Prices and Payment Methods
The prices are varying within White Villa according to location, area and view. It ranges from EGP 3,000,000 to EGP 15,000,000.
There are various payment methods and offers, for instance:
5.5% down payment with installments over 4 years

10% down payment with installments over 5 years

15% down payment with installments over 6 years

20% down payment with installments over 7 years
So, enjoy the tourist experience inside one of the most important Hurghada villages and resorts, in El Gouna magical city; one of the most beautiful touristic sites over the world.
Do not waste your opportunity; buy your unit inside White Villa resort, and enjoy its services and advantages, where the tremendous nature and vicious green spaces, wonderful artificial lakes and the marine port that will take you over the moon around the Red Sea.
* Kindly note that mentioned prices may change. However, Aqarmap keen to give updates on the latest prices, so the consumer acknowledge the last updates constantly through Egypt Real Estate market. As well as, we measure the demands of real estate market via Aqarmap index.