Thinking of adding some Colors to your Home? Read this article
7 ideas to help you add joy and delight to your home.
Adding colors to your home's furniture creates an atmosphere full of joy and takes away the boredom. You might have a clean and symmetrical design using monochrome colours, it will be elegant and classic but soon enough you will feel bored.
It is crucial to have in mind the long-term use and practicality of your decor. It is not only an aesthetic element but also affects the mood and lifestyle of the people living around.
Aqarmap cares about you and wrote this comprehensive article to guide you on how to add colors to your home.
How to choose the colors of each room properly?
The rule is easy:
60% for a basic color

30% for a secondary color

10%  for an accent color
For example:
Start with choosing a neutral color such as white, grey or creamy white. Then, apply it on 60% of the room. The second step is to choose one or two colors that match with white. These colors should allocate 30% of the room. Finally, choose colorful accessories such as vase, flowers and pillows which represent 10% of the room.
Different & easy way of adding Colors to your home
1- Chairs
Have you got any old chairs with worn paint? Here's a good idea; paint them in vivid colors.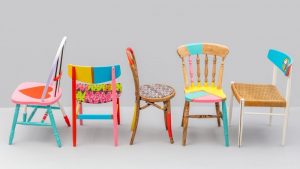 Tools you need:
– Masking Tape
– Small quantities of different paint colors
– A brush
– Paint Stripper
How to:
Make sure the chair is clean and has no rough edges or cracks. If you found some, use latex putty to cover them.
Put many layers of paint on the chair and leave each layer until it is completely dry. Repeat until you get the color you desire.
2- Flowers
Flowers have a relatively low price but leave a great impact on the surrounding atmosphere. You can use either real or artificial flowers to decorate the house with beautiful and creative arrangements.
3- Lighting
Lighting can really make a difference in your house, especially when it's done right. Lighting can shift how we see colors, so make sure to choose the right color temperature and install them correctly.
4- Pillows
The easiest way to add colors to your home is using pillows. They come in all shapes, colors and materials. Instead of buying a new sofa, you can renew the old one and add a couple of colorful and cosy pillows to change the mood of the room.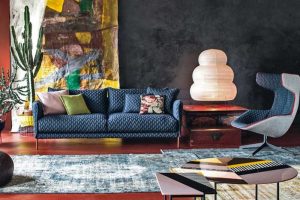 There are many things to take into consideration when buying a new carpet:
– Room Space

You should know the available space in your room and how you are going to use it.
– Place
If you need a carpet in your bedroom, you should know where are you placing it? will it hinder the door from opening and closing normally? and so on.
– Color
When you choose the colour of your new carpet, it should be harmonious with the furniture. For example, if your room's furniture is dark, you should think of light-coloured carpets.
– Materials
When it comes to the material of carpets, you have a wide range of options, however, materials make prices vary too much. Polyester is a durable material and of reasonable prices. It comes in many colors and patterns.
6- Wall Art
Portraits and wall arts have many benefits that you should know about. They can be used as aesthetic elements in the room. At the same time, they can be perfectly cover wall defects if there are any. They also come in many shapes and colours.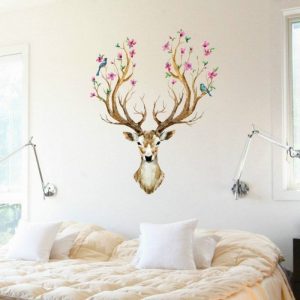 7- Drapes
Drapes are an essential accessory for windows. They add a beautiful touch to the place and have lots of benefits. Depending on their styles and patterns, they can dramatically change the atmosphere of the room and its mood.