Exclusive Features Only in Jeera Sheikh Zayed
In the heart of Sheikh Zayed, far from the madding crowd, you will find Jeera smart residence.
In the last couple of years, Egypt's real estate market has witnessed a spike that resulted in a wide variety of resorts and compounds that are built all over the country's cities, the old and new ones. This movement in construction aims at satisfying the different needs of the population which creates unprecedented diversity in choices and prices. 
This article takes you on a tour in Jeera compound Sheikh Zayed, as we in Aqarmap are keen to keep you in touch with all market's updates through Aqarmap Index.
About The Real Estate Developer of Jeera Compound
Jeera Sheikh Zayed is a project of Iwan Developments; a leading company in Egypt's real estate market. Established 15 years ago, it boasts a successful career of more than 10 residential projects, such as The Axis, Alma, Jewar and many more. Lately, Iwan Developments managed to achieve a huge growth in the volume of the business, thanks to its vision that is based on integration and attention to details that bring value.
All that you need to know about Jeera Compound
Jeera is a residential compound at Sheikh Zayed; a peaceful and quiet city in Giza. The project features 4 phases and offers Villas, Twin Houses, Town Houses. One more thing that makes Jeera compound special is that you have the option to buy or rent your future home.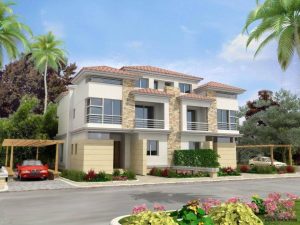 Over an area of 60 feddans in Sheikh Zayed, Jeera welcomes you with 20% built-up area of up to 250 villas, in a wide range of living spaces, surrounded by lush greenery and soothing artificial lakes.
Location of Jeera Compound
Jeera compound is located in a prime location. It is a 5-minute trip from Hyper Market, and 10 minutes away from the 26th of July Corridor, Lebanon square and Mohandseen. The 6th of October city is within a timeframe of 15 minute-drive. Public Transportation is also available. 
Exclusive Features Only In Jeera Compound 
The compound introduces Smart Homes; a unique and cutting-edge technology that connects all the units together to the control rooms on compound premises and also to those inside the headquarters of the developing company. Furthermore, it offers services, such as:
Central AC

Private Jacuzzi

Private Garden

Kids Swimming Pool

Wall Lockers 

Gymnasium

Changing Room

Private Swimming Pool

Lake-view Landscape

Kids Playground

Covered Parking Area

Mixed Health Club
Unit Prices in Jeera Compound
With a wide array of living spaces, Jeera caters to each and every resident's needs, offering luxurious villas, town and twin houses in the heart of Sheikh Zayed. The prices in Jeera starts at:
EGP ,9500 per square metre, if you are looking for apartments.
EGP 16,700 per square metre, if you are looking for villas.
Kindly note that the mentioned prices are those of the first half of 2019, and may be subject to change. 
Start searching for compounds in Sheikh Zayed City on Aqarmap